Is your Borders gift card still good?
The bookseller declares bankruptcy but says it will honor its gift cards. However, it might be prudent to redeem them soon.
This post comes from Lynn Mucken of MSN Money.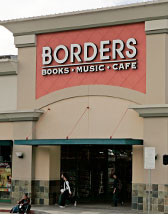 What's the gift that never starts giving? A gift card from a company that declares bankruptcy or, worse, goes under.
Bookseller Borders has filed for Chapter 11 bankruptcy, as expected. The chain, which operates more than 650 stores and employs 19,000 people, announced it plans to close one-third of its stores and concentrate on its e-book operations.
Borders said it will continue to honor its gift cards, both online and even at stores targeted for closure. Still, millions of dollars in unredeemed gift cards could be in danger if the company changes that policy.
So it's probably wise to use up those dollars as soon as possible, and encourage those who received Borders cards from you to do the same. Post continues after video.
According to MyBankTracker, when Sharper Image filed Chapter 11 in 2008, it temporarily suspended acceptance of its gift cards, then later offered cardholders the option of receiving a one-time 25% discount on card value at rival retailer Brookstone, or filing proof of their claim with the bankruptcy court -- where it would be one of the last debts satisfied. All told, there was a combined $20 million loss in gift cards through the bankruptcy filing, according to InsWeb, an online insurance marketplace.
On the other hand, customers holding gift cards for Circuit City, which liquidated in Chapter 11 in 2008, were allowed to redeem the full value of their gift cards during the company's liquidation sales.
Once considered one of the nation's best booksellers, Borders was late jumping into e-books and faltered as the economy and its brick-and-mortar business model crumbled.  Industry watchers note that the company, which was founded as a used-book store in Ann Arbor, Mich., in 1971, has been churning its top management in recent years and has made poor decisions on store locations.
Add to that other mistakes and bankruptcy became inevitable -- "outsourcing its e-book business to arch-competitor Amazon.com for years; a costly overseas expansion; and an expensive stock buyback program that rewarded shareholders but left the company low on cash as changes in book buying behavior mounted," The Washington Post summarized.
Company president Mike Edward said the bankruptcy will allow Borders to restructure its debt. Near the end of December, it had liabilities of $1.29 billion and assets of $1.28 billion, according to Reuters. The 200 stores it plans to close are taking a $2 million-a-week toll on profits, the company says.
Can Borders become a contender again in the rapidly evolving book market? "The move gives Borders room to breathe and cut its debt, but unless the company can regroup in a hurry, it may never regain prominence," Dave Rosenthal wrote at The Baltimore Sun's Read Street blog. "… As more and more folks buy e-readers, that market will increase rapidly, and Borders will be missed less and less."
More from MSN Money:
DATA PROVIDERS
Copyright © 2014 Microsoft. All rights reserved.
Fundamental company data and historical chart data provided by Morningstar Inc. Real-time index quotes and delayed quotes supplied by Morningstar Inc. Quotes delayed by up to 15 minutes, except where indicated otherwise. Fund summary, fund performance and dividend data provided by Morningstar Inc. Analyst recommendations provided by Zacks Investment Research. StockScouter data provided by Verus Analytics. IPO data provided by Hoover's Inc. Index membership data provided by Morningstar Inc.
RECENT ARTICLES ON SHOPPING DEALS