Email enigma: When the boss' reply seems cryptic
A terse response -- or none at all -- to a work question can cause confusion and frustration. What's a conscientious employee to do?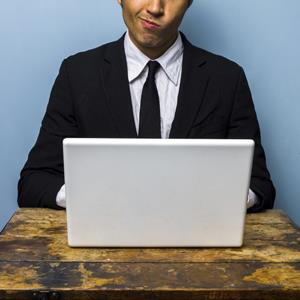 By Sue Shellenbarger, Wall Street Journal
Many employees labor over emails seeking guidance from the boss, only to receive a cryptic reply such as "Great!" or "Sounds good" — or no answer at all. The result: Confusion and frustration.
The potential for email misfires between bosses and subordinates is mounting, as the volume of email grows and more people read it on the fly on mobile devices. Sometimes the boss is too rushed to read. Employees fuel the problems by sending poorly written emails. Deeper issues can arise if bosses' and employees' communication styles clash.
Jill Campen was baffled recently when her boss, Marty Finkle, fired back a one-word reply to her carefully thought-out email asking for his approval on a client-training presentation she had prepared: "Done!" Campen, a consultant at Scotwork North America in Parsippany, N.J., puzzled over the message for a half-hour, then decided she was too upset to resolve the matter by email. She called Finkle and asked, "What is going on with you? 'Done?' What does that mean?"
Finkle, chief executive officer of Scotwork North America, a negotiating-skills training and consulting company, was dismayed. He told Campen that he trusts her to do a good job and went on to explain that he had been rushing to answer a client's email and empty his inbox of the 100 to 150 emails he receives daily. When her message popped up, his first thought was, "We've already talked about this. I could get rid of this really quickly." By the end of the conversation, the two were laughing.
The number of emails sent or received daily by the typical corporate employee is expected to rise to 136 by 2017 from 121 this year, based on projections released last November by the Radicati Group, a Palo Alto, Calif., market-research firm. Managers, who receive the most, are "flooded by email," says Nancy Ancowitz, a New York business communications coach. Many a manager multitasks to get through it all, "emailing from a mobile device at a stoplight, typing with his thumbs," Ancowitz says.
Some bosses don't answer at all. Nearly one-third of 700 employees surveyed by researchers at Florida State University said their bosses had given them "the silent treatment" in the preceding year, according to the 2006 study.
Managers sometimes use silence to pressure employees to come up with a solution on their own, says Joyce K. Reynolds, a Fort Lauderdale, Fla., business coach. "Bosses have their own agendas. They don't always have the answers. Sometimes they don't want to give them," Reynolds says.
In other cases, bosses scroll over employees' messages because they have vague or misleading subject lines, says Jack Appleman, a corporate writing instructor in Monroe, N.Y. If an employee uses the same subject line on an email string long after the topic has changed, the boss's response is likely to be, "I thought this was already done," says Appleman, author of "10 Steps to Successful Business Writing." Subject lines should say exactly what is needed, such as, "Report: Approval needed by 5 p.m.," he says.
Some emailers annoy bosses with a long windup, such as "If it's not too much trouble, I was just wondering …," says Barbara Pachter, a Cherry Hill, N.J., communications consultant and trainer. They're usually trying to be polite but come off as passive, Pachter says. Reading an email aloud before sending it is a good way to ensure the tone is neither wishy-washy nor too harsh.
Other employees ramble on in "one huge paragraph" of 30 lines or more, like "a sheet of black ice," and then bury their question at the end, Pachter says.
Emails covering multiple subjects can be confusing, says Mike Consol, a Livermore, Calif., writing and corporate-communicat​ion coach; sticking to one issue is usually best. Some matters may be too complicated to handle on email, such as personnel issues or developing new policies.
Even well-written emails can elicit frustrating responses if bosses and employees have different communication styles. Bill Littman was annoyed last year when a thoughtful email that he had written about a client's suggestions drew a one-word response from his boss, Bryan Janeczko: "Yes." Littman says the email "seemed dismissive." He called Janeczko and asked, "Did you see what I wrote?"
Janeczko, founder and chief executive of Wicked Start Consulting, New York, says he thought Littman's email was well-done and valuable. He had been "running a million miles a minute" when he read it. He trusts Littman, a partner and director of operations for the firm, and he assumed his short response would convey approval, he says. With coaching from Ancowitz, Janeczko realized that as an extrovert, his straightforward, fast-paced communication style at times clashed with Littman's more measured approach typical of introverts. Janeczko began giving Littman more thoughtful feedback on email, and the two make time to talk more often.
Understanding your communication style — and those of your co-workers — can help avert miscues. At an engineering firm she headed several years ago, Allison Tabor realized she sometimes came across as curt in emails to certain employees who preferred warmer or more detailed communication. "I've had employees say, 'Ouch, that stings,'" says Tabor, now founder and owner of Coppia Communications, a San Ramon, Calif., coaching and business consulting firm. She began tailoring her emails to suit individual employees' style.
Other bosses and employees compromise to build good email chemistry. Cheryl Cofield, director of culture, diversity and inclusion at Atlanta's Georgia Institute of Technology, writes long, carefully crafted emails to her boss, Pearl Alexander. When the two first worked together three years ago, Alexander, senior director for people strategies, felt anxious if she didn't have time to write a thoughtful answer right away.
In time, Cofield realized that her boss trusted her and she didn't have to include so many details. She began putting questions at the beginning of emails, rather than the end. For her part, Alexander began dropping Cofield a short acknowledgment when her emails arrived, saying she would reply soon. She also set aside more time for answering email, talking by phone and meeting face-to-face. She says, "I stepped up my game."
More from the Wall Street Journal
DATA PROVIDERS
Copyright © 2014 Microsoft. All rights reserved.
Fundamental company data and historical chart data provided by Morningstar Inc. Real-time index quotes and delayed quotes supplied by Morningstar Inc. Quotes delayed by up to 15 minutes, except where indicated otherwise. Fund summary, fund performance and dividend data provided by Morningstar Inc. Analyst recommendations provided by Zacks Investment Research. StockScouter data provided by Verus Analytics. IPO data provided by Hoover's Inc. Index membership data provided by Morningstar Inc.