5 unusual locations you can buy alcohol
Businesses are quenching customers' thirsts for their favorite beer, wine and spirits no matter where they are, even in the most unexpected places.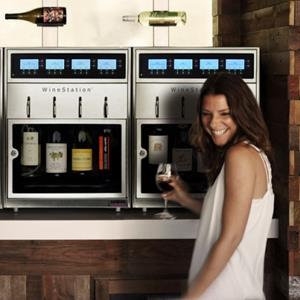 By Catey Hill, MarketWatch

When most people want to toss back a cold one, they head to a nearby bar or liquor store. But increasingly, consumers can buy booze in some unconventional locales — even hospitals.

Starbucks announced this week that it will start selling beer and wine in the evenings in thousands of its stores, which the company says should help boost sales. But the coffee giant is hardly alone.
Hospitals
Some hospitals do let family members and friends — and sometimes even patients — buy alcohol at the hospital, says Angelo Mojica, a board member for the Association for Healthcare Foodservice.
Mojica says he has seen guests in the VIP wing of one hospital get the option of cocktails, beer and wine, and that some long-term-care patients, with the permission of their doctor, can opt for a beer at dinner. But he adds that hospitals serving alcohol are rare, and that public hospitals are unlikely to be among those that do.
Hair and nail salons
Manis and martinis anyone? Many hair and nail salons now offer guests cocktails to go with their services.
At Fluff Bar in Denver, for example, guests can get a blowout, up do, and cut and color with their choice of a fluff mopolitan (a cosmo), skinny fluffarita (a margarita) and a lemon fluffdrop (a lemondrop), as well as a handful of champagnes and wines. And at Sweet Lily in New York City, you can get manicures and pedicures while you enjoy white wine (after 4 p.m.) or Prosecco on special occasions like Valentine's Day.
Some salons do this legally (with a liquor license) and some do it under the table, though that comes with risks.
Vending machines
Some consumers on cruise ships, in hotels and at grocery stores may have noticed a new kind of vending machine: one that serves glasses of both red and white wine.
Napa Technology makes a wine dispensing system in which consumers insert a card pre-loaded with money (the business may check your ID before letting you buy the card) into the machine to buy a glass of wine. The card remembers your wine preferences and keeps track of what you've purchased. Jayne Portnoy, the vice president of marketing and brand strategy for the company, says the machine helps wine stay fresh for 60 days, as the containers holding the wine bottles are temperature-controll​ed and don't allow oxidation or contamination.
Chain clothing stores
Last month, hip clothing retailer Urban Outfitters scored a liquor license for its Williamsburg, Brooklyn outpost — and it's not the only chain store hoping to get shoppers a little tipsy.
The high-end department store Barney's has a cafe — called Fred's at Barney's — built into its New York City store that serves pricey cocktails like the Fred's Ruby Red, a mix of vodka, aperol and blood orange juice, as well as the Parisian Rain, a mix of Prosecco, aperol and sugar cubes. And luxury Manhattan department store Bergdorf Goodman offers a similar experience, serving up a selection of wines and champagnes by the glass.
Funeral parlors
Booze and funerals are no strangers to one another, but some funeral parlors are taking the association to a new level. Hodges Funeral Home in Naples, Fla., recently opened an on-site wine cellar, which the home's general manager told a local TV station he thinks is the first in the country.
"They still want to have a party, still want to celebrate and have the means to mourn their loved ones…but they don't want to do it over a person's body," Minso told the network. "For the younger generations, that's become such an old-fashioned idea."
More from MarketWatch
Are you sure you want to delete this comment?
DATA PROVIDERS
Copyright © 2014 Microsoft. All rights reserved.
Fundamental company data and historical chart data provided by Morningstar Inc. Real-time index quotes and delayed quotes supplied by Morningstar Inc. Quotes delayed by up to 15 minutes, except where indicated otherwise. Fund summary, fund performance and dividend data provided by Morningstar Inc. Analyst recommendations provided by Zacks Investment Research. StockScouter data provided by Verus Analytics. IPO data provided by Hoover's Inc. Index membership data provided by Morningstar Inc.