The high cost of celebrities gone wild
The bad behavior of stars such as Charlie Sheen can have a big impact beyond the bad press. Just ask CBS and Warner Bros.
When CBS (CBS) and Warner Bros. (TWX) shut down the television series Two and a Half Men on Feb. 24 after actor Charlie Sheen launched a rant against the show's producer that some interpreted as anti-Semitic (a charge Sheen has denied in interviews), executives involved with the top-rated sitcom rushed to their calculators to tally the damage.
There are plenty of losses to go around. First, Sheen stands to lose his roughly $2 million-per-show salary. The star's partying had already cost the show's almost-300-member crew four weeks of lost work while he was in rehab. By canceling the final four episodes of the season, Warner Bros. says it will have only 16 to sell this year in the lucrative rerun market, rather than  the 24 it had planned. That will lower Warner's expected revenue by $12 million, according to a person familiar with the show's finances. Warner Bros. spokesman Paul McGuire declined comment. Sheen in television interviews has threatened to sue Warner  and CBS over his lost pay.
Story continues after the graphic.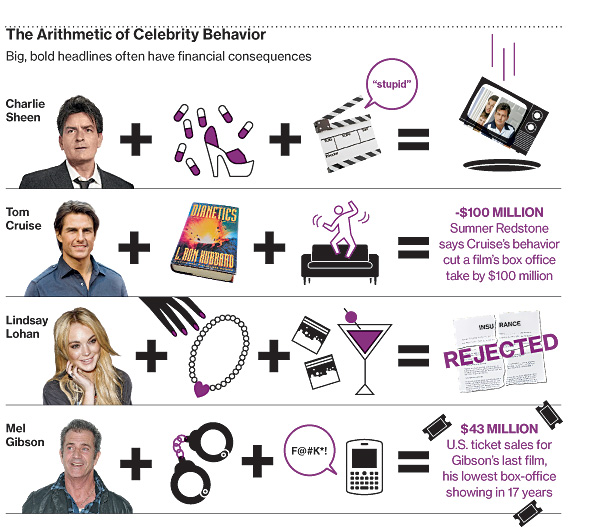 While Sheen aired his grievances in interviews with celebrity website TMZ and radio host Alex Jones, actress Lindsay Lohan was in a Los Angeles courtroom dealing with her latest legal difficulty: the alleged theft of a $2,500 necklace. Also on TMZ's site recently: Rocker Vince Neil's DUI arrest in Las Vegas and a supposed brawl involving the cast of Bravo's hit series, The Real Housewives of New Jersey.
"When a star does something that casts that kind of attention on them, they hurt their brand," says University of Southern California professor Elizabeth Currid-Halkett, author of Starstruck: The Business of Celebrity. "They also set off a ripple effect that harms the businesses that helped make them stars in the first place."
Golf is still reeling from Tiger Woods' extramarital affairs that surfaced in late 2009. Nike (NKE) lost 105,000 customers for its Woods-signature golf balls—and profits for the overall golf products industry fell an estimated $7.5 million in the six months after the scandal came to light, says a December 2010 study by Carnegie Mellon University's Tepper School of Business.
More than eight snippets of actor Mel Gibson's threats to his girlfriend Oksana Grigorieva—laced with racial epithets—turned up on the website Radar Online last July. Summit Entertainment, the studio that made the Twilight vampire series, postponed the release of Gibson's film, The Beaver, to May 6 and plans to open the $17 million movie only in select theaters—a practice with smaller films that would save  on marketing costs if the film tanks.
"The real question is whether moviegoers will be repulsed by a guy who sounded so mean-spirited, so vile," says box office analyst Paul Dergarabedian of Hollywood.com. Paul Pflug, a spokesman for Summit, declined comment.
Dergarabedian says Gibson's previous film, Edge of Darkness, fell short  at the box office last year in part  because the actor's reputation still  suffered from the aftereffects of anti- Semitic comments he made following his 2006 arrest in Malibu on alcohol- related charges. That film had ticket sales of $43 million after Warner Bros. and production partners spent $60 million to make it, according to movie tracking website IMDb.com. That's the lowest box office for a major Gibson film since 1993. Alan Nierob, one of Gibson's publicists, declined comment.
One of Hollywood's biggest falls from grace followed a string of headline-grabbing incidents involving Tom Cruise in 2005, starting when he espoused a Scientology belief that drugs should not be used to treat psychiatric ailments and criticized actress Brooke Shields for using drugs to treat her postpartum depression. Then followed a tense interview with Today show host Matt Lauer and a couch-jumping appearance on Oprah Winfrey's show that spawned dozens of parodies on Google's (GOOG) YouTube. Viacom (VIA.B) Chairman Sumner Redstone told Vanity Fair that Cruise cost the company's Paramount studio $100 million from the diminished box office of Mission: Impossible III.
The career of the longtime A-lister hasn't fully recovered. Cruise's most recent film, Knight and Day, sold $76 million in tickets in the U.S. That's his second-weakest box office performance since 1999. Cruise spokeswoman Amanda Lundberg had no comment.
Producers often steer clear of controversial stars altogether.  Lohan was dropped from the film Inferno: A Linda Lovelace Story, in part because the costs to insure her showing up were so high, director Matthew Wilder told the cable network E!. "Insurance underwriters know about TMZ, too," says Doug Turk, chief executive officer of AON/Albert G. Ruben  Insurance Services.
Warner Bros. and CBS have already collected big on the 177 Two and a Half Men episodes produced before Sheen's latest meltdown. CBS pays Warner $4 million to produce each episode. Network spokesman Chris Ender says "any ratings declines will be more  than offset by reduced programming costs." However, both CBS and Warner could feel the pain next year if they can't reconcile with Sheen and the series is canceled permanently,  says David Bank, an analyst at RBC  Capital Markets. "If the show goes away, it's bad," he says. Warner, which agreed to pay the salaries of the show's crew, would lose $43 million in rerun sales. CBS would lose TV's top-rated comedy and the large audience it delivers to help the network's other Monday night shows.
The bottom line: The recent increased focus on celebrity behavior adds volatility to media companies' bottom lines.
Grover covers the media and entertainment industry for Bloomberg Businessweek in Los Angeles.Fixmer is a reporter for Bloomberg News in Los Angeles.
Related stories:
Swag: The Currency of Hollywood
Sheen Lawyer Says Star Answering Producer's 'Outrageous Insults'
What Can We Learn From Charlie Sheen's Missteps?

People outside of the industry don't realize that Tiger Woods wasn't perfect. The sponsors put him on a pedestal and left him there while he boinked countless nubile white women. If Charley Sheen, Lindsay Lohan, Tom Cruise, Mel Gibson and others have done things deemed stupid by others, then what would we do in the same situation?
We are all people and we all make mistakes. Some of our mistakes are forever saved on film or page.
Podoby's nerfect.
Are you sure you want to delete this comment?
DATA PROVIDERS
Copyright © 2014 Microsoft. All rights reserved.
Fundamental company data and historical chart data provided by Morningstar Inc. Real-time index quotes and delayed quotes supplied by Morningstar Inc. Quotes delayed by up to 15 minutes, except where indicated otherwise. Fund summary, fund performance and dividend data provided by Morningstar Inc. Analyst recommendations provided by Zacks Investment Research. StockScouter data provided by Verus Analytics. IPO data provided by Hoover's Inc. Index membership data provided by Morningstar Inc.
MARKET UPDATE
NAME
LAST
CHANGE
% CHANGE
There's a problem getting this information right now. Please try again later.
NAME
LAST
CHANGE
% CHANGE
There's a problem getting this information right now. Please try again later.
Market index data delayed by 15 minutes
[BRIEFING.COM] The major averages posted solid gains ahead of tomorrow's policy directive from the Federal Open Market Committee. The S&P 500 rallied 0.8%, while the Russell 2000 (+0.3%) could not keep pace with the benchmark index.

Equity indices hovered near their flat lines during the first two hours of action, but surged in reaction to reports from the Wall Street Journal concerning tomorrow's FOMC statement. Specifically, Fed watcher Jon Hilsenrath indicated that the statement ... More
More Market News
Currencies
NAME
LAST
CHANGE
% CHANGE
There's a problem getting this information right now. Please try again later.