7 things tax preparers wish we would do
It pays to listen to the tax pros if you want a smooth and painless filing.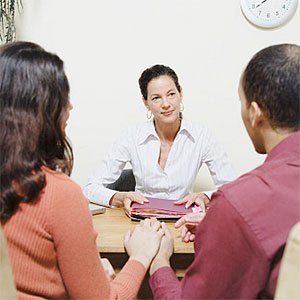 By Geoff Williams, U.S. News & World Report
Between now and April 15, as you start preparing your taxes, the best thing you can do for your wallet is think about how you can make life easier for your tax preparer.
Another way to put it: You can present your preparer with a pile of unorganized receipts and get through the process painfully, or you can do some preparation and make everyone happy. Here are some thoughts, suggestions and requests from tax preparers on what they wish taxpayers would do when putting together their tax paperwork. It's also good advice to follow if you're doing your own taxes.
Be a model client
Most people who are disorganized with their taxes likely don't know how to be organized, or at least lack a strategy. So follow the advice of Denise Mummert, a certified public accountant with Windham Brannon in Atlanta.
She suggests creating a file for each year's tax return data. If you aren't doing that already, start one for the 2014 taxes you will be filing in 2015.

"This could be a plastic-sectioned accordion file or something as simple as a manila folder," she says. "Set up a tax return data file at the beginning of the year and put information in it throughout the year as events occur."
Mummert says receipts for items you plan to deduct should go in this file, and certainly information on bonuses or stocks, receipts for property tax payments and transaction receipts for sales of stocks and bonds.
Then, before you meet with your tax preparer, Mummert advises grouping similar items together, and if you have a lot of receipts, add them up and write the totals in the file.
Don't give your tax preparer a shoebox of receipts
Yes, it's tempting, but G. Scott Haislet, a certified public accountant and attorney based in Lafayette, Calif., who specializes in tax law, can't be the only tax preparer who simply won't look at them. Haislet says his firm has a policy of rejecting shoeboxes. "It's inefficient and involves mind-reading," he says.
Going through the shoebox and adding up the numbers is your job, unless you talk it over with your preparer beforehand and he or she agrees to accept it. But if you do give a tax preparer a pile of papers, realize that in most, if not all cases, you'll be charged more for the additional time required to dig through it. Those extra hours will add up: According to an annual National Society of Accountants survey, taxpayers who hire a professional this year should expect to pay an average of $261 for an itemized Form 1040 with Schedule A and a state tax return. If you plan to file a nonitemized return, the average cost for a professional to prepare a Form 1040 and state return is $152.
Matthew Levin, also a CPA with Windham Brannon, good-naturedly recalls a client who "was in the habit of bringing his information to us each year in a paper grocery bag." He was rarely late to his meetings, but on one occasion, he was. Levin says the client told him: "I was in a rush to leave our house, and I mistakenly grabbed the wrong paper sack for our meeting. Halfway to your office, I realized that I had taken the trash bag with me. So I had to turn around and drive home to pick up the correct tax receipts paper sack."
Don't be that person.
Give all of your paperwork to your tax preparer at one time
Doling it out piecemeal is a no-no. But if you have everything except one or two pieces of information and feel you need to get everything to your tax preparer now, write a note, tax preparers suggest, and let whomever is doing your taxes know what's missing. Otherwise, your preparer will waste time looking for it, and that will likely result in a higher fee for you and a headache for your preparer.
Talk to your tax preparer throughout the year
"When clients show up in March with a 'Here, this is what I did last year,' situation, I can't help them. So consult, consult, consult," advises Juana Maria Gonzalez, a tax preparer in Miami Lakes, Fla., who is an enrolled agent with the Internal Revenue Service. (In a nutshell, she is licensed by the federal government and can represent people in tax audits.)
"In taxes, there are things we can help with that do affect you, sometimes quite vastly. Timing is crucial," says Gonzalez, who also owns her own tax company, Accu-Tax.
Gonzalez says you should definitely check in with your tax professional before you get married, divorced and certainly before you buy, sell or rent property.
Levin seconds that. "Years ago, mortgage financing of a home was one of the simplest transactions to structure tax-wise -- interest expense on mortgage indebtedness was almost always fully deductible," he says.
But over the past three decades, tax legislation has complicated matters, Levin says. The amount of mortgage debt, the timing of when the debt was placed on the home and numerous other factors "can limit, or eliminate, the deductibility of the interest expense," he says. "These rules are known as tax traps for the unwary, and few mortgage loan brokers are aware of these traps."
Talk to your tax preparer before signing contracts
This advice comes from Mel Cohen, a certified financial planner who has been preparing taxes for more than 35 years and is based in Pleasantville, Tenn. Cohen remembers one client saying, "I just signed an agreement for sale for a new property. Can you look it over?"
Cohen's response: "No point in me looking it over since you already signed it."
If there's a potential problem with the IRS, tell your tax preparer immediately
Maybe it isn't surprising that a disorganized person who has fallen into a problem with the IRS won't necessarily try to fix the problem quickly. Still, you can see the problem when Cohen recounts how a client once told him, "I received a notice from the IRS, and I have 30 days to answer it."
Cohen asked his client when the letter came. The client's reply? "About three months ago."
Get your paperwork to your tax preparer early
February is fantastic, tax preparers say. March, especially the first half, is fine. But as Haislet says, if you give your material to your tax preparer on April 1, don't be upset if you end up having to file an extension.
In other words, your tax preparer is a mere mortal who happens to be pretty good with numbers. If it's April 14, and you're heading into your preparer's office with a bag of receipts in tow, you don't need a tax preparer. You need a magician or a time machine.
More from U.S. News & World Report:

152 dollars for a nonitemized return ? If you can add and subtract, you don't need a pro. I'm slightly lazy and hate paperwork, so I use TaxAct. Costs me 22 bucks for federal and state software download and includes free efile for federal. I never get anything back from the state so I just print it out and mail it in.
Every high school in the country should be teaching kids how to do a basic tax return.


THIS IS WHAT YOU DO TO AVOID ANY TAX PROBLEMS. YOU TELL THE IRS THAT YOU WANT THE SAME FORMS TO FILL OUT AS THE N-FOOTBALL-L HAS DONE, AND THE SAME TAX FREE STATUS FORMS THAT GENERAL ELECTRIC HAVE FILLED OUT FOR YEARS, AND LOW AND BEHOLD YOU ARE NOW TAX EXEMPT YEAH. SEE THAT'S HOW THAT WORKS ITS ALL FOR FREE FOR THE PALS OF CONGRESS AND ALL THE STUPID OUT OF THIS WORLD TAX LAWS WE HAVE. TAX MAN GET IT FROM THEM FIRST THEN I WILL GIVE YOU ONLY WHAT I THINK I GOT IN RETURN FROM CONGRESS FOR THE YEAR AND THAT'S NOTHING. I HAVE HAD IT WITH THIS STUPID GREEDY CONGRESS, THEY CAN GO TO LIVE WHERE ALL THE JOBS ARE. IN A DUMPY COUNTRY, GET OUT OF HERE AND TAKE YOUR SHADY DEALS AND LIES WITH YOU. CORAVETTE


And when you've completed these 7 steps, log on and DO IT YOURSELF.  You've just done ALL OF THE HARD WORK, folks; no need to pay a professional to enter this info into a tax software program.  Download one yourself, enter in your hard sought data, and save yourself the fees.  Turbotax is a good tool.

Before the advent of personal computers, we would keep meticulous reports of what was bought when and for what.  My :"job" when income tax came was to do that dreaded capital gains form.  "The boss" did the rest. Then the computer came along, I bought many Quicken programs, I still have many issues but choose to work around them, so that the end of year became less problematic.  The first years of filing our taxes, it took me quite a while, while "the boss" supervised and questioned each line.  We had our taxes done a couple times and I am not sure the money we paid was really all worth it.  So, if you're young enough, buy yourself a quicken program.  Yes, it's a pain to set it, but is it really worst of a pain at tax time?

Are you sure you want to delete this comment?
DATA PROVIDERS
Copyright © 2014 Microsoft. All rights reserved.
Fundamental company data and historical chart data provided by Morningstar Inc. Real-time index quotes and delayed quotes supplied by Morningstar Inc. Quotes delayed by up to 15 minutes, except where indicated otherwise. Fund summary, fund performance and dividend data provided by Morningstar Inc. Analyst recommendations provided by Zacks Investment Research. StockScouter data provided by Verus Analytics. IPO data provided by Hoover's Inc. Index membership data provided by Morningstar Inc.