Clever deduction: Write off work clothing like a star
Abba and Lady Gaga did it, so why can't you? Just be careful which articles you claim, because the IRS has heard this all before.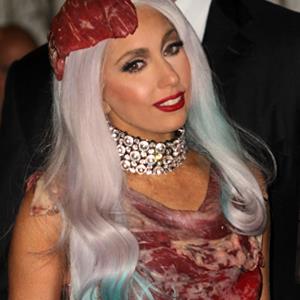 By Robert W. Wood, Forbes.com
Everyone needs tax deductions, and they can alter behavior.

That was true even in the feel-good 1970s, when you could hear the feel-good music of the past: ABBA. Turns out ABBA wore outrageous outfits onstage to claim tax deductions. The Swedes were famous for glittering hotpants, sequined jumpsuits and platform heels.

Björn Ulvaeus now reveals the reason for the outfits was the Swedish tax code. Newly published "Abba: The Official Photo Book," says their expensive outfits were tax-deductible only if they were so outrageous they couldn't be worn on the street. U.S. tax law is similar, and that means Lady Gaga's meat dress (pictured) qualifies, her favorite outfit ever. Of course, Gaga has many unique styles, and they're all tax-deductible.

The rest of us aren't so lucky. If you have to wear business attire to work, can't you claim it as a business expense on your taxes? Hey, suits are like uniforms, so should be tax deductible! Long before dressing for work was confusing, people have tried and lost these arguments with the IRS.

The tax code allows deducting work clothes, but usually only if:
You wear them as a condition of your employment, and
The clothes are not suitable for everyday wear
It is not enough that you don't wear your work clothes away from work. The clothing must not be suitable for regular wear. Think firefighters, health care workers, law enforcement, letter carriers, professional athletes, and transportation workers (air, rail, bus, etc.).

Musicians and entertainers can deduct theatrical clothing not suitable for everyday wear. Required protective clothing like safety boots, safety glasses, hard hats and work gloves are OK.
But in taxes, someone is always pushing the envelope. Take the TV anchor who wrote off about $20,000 a year for clothes in Hamper v. Commissioner (.pdf file). Hey, she was required to adhere to women's wardrobe guidelines for "standard business wear," she claimed. And, she wore it only at work and even kept it separate from her personal clothing.

Still, the IRS and Tax Court said no. Besides, she deducted lounge wear; a robe; sportswear; lingerie; thong underwear; an Ohio State jersey; jewelry; running shoes; dry cleaning; business gifts; cable TV; contact lenses; cosmetics; gym memberships; haircuts; Internet access; self-defense classes; and her subscriptions to Cosmo, Glamour, Newsweek and Nickelodeon.

You get the idea. Her tax return was a tad aggressive. For most of us, you can only deduct the used clothing you give to charity. And when you do that, remember: You can only claim its market value -- which usually isn't much. See the IRS' guidelines on contributions of used clothing and household items.

Meat dress, anyone?
More on Forbes.com
DATA PROVIDERS
Copyright © 2014 Microsoft. All rights reserved.
Fundamental company data and historical chart data provided by Morningstar Inc. Real-time index quotes and delayed quotes supplied by Morningstar Inc. Quotes delayed by up to 15 minutes, except where indicated otherwise. Fund summary, fund performance and dividend data provided by Morningstar Inc. Analyst recommendations provided by Zacks Investment Research. StockScouter data provided by Verus Analytics. IPO data provided by Hoover's Inc. Index membership data provided by Morningstar Inc.