Does the IRS view your side hustle as a business or hobby?
The guidelines aren't so cut and dried.
This post comes from Jim Wang at partner site U.S. News & World Report.

The term "side hustle" has become very popular lately – and for good reason.
If nothing else, the Great Recession has taught us that your job, as stable as it may seem, could disappear at any moment. The unemployment rate peaked at more than 10 percent in October 2009, according to the Bureau of Labor Statistics, which meant millions of Americans were out of work.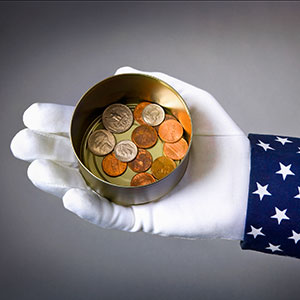 The idea of a side hustle is very appealing  -- find something you can do to earn a little money on the side. A side hustle can create diversity in your income stream and, with a little bit of luck and lots of hard work, could become something you do full time. Even if it doesn't, an extra hundred dollars each month can go a long way.
But when it comes to tax season, the Internal Revenue Service might not see your side gig the same way. Is your activity considered a hobby or actual business? Does it matter? Here's what you need to know before sending off your tax returns.
Why does the difference matter?
Sometimes when you run a business, you operate at a loss. This is especially true at the beginning when you have startup costs and are still figuring out the business. You might have to buy tools, materials and other equipment before you make your first sale. If you bought these on or before Dec. 31, then your business would have a loss for that year.
If your activity is considered a business, you can take that loss and use it as a deduction against other income, like from your day job. If it's considered a hobby, you can't.
Are you engaged in a business or a hobby?
The IRS doesn't have a clear set of rules for determining whether your activity is for profit or a hobby, but it does publish guidelines.
If you read the IRS guidelines, then you want to look up Internal Revenue Code Section 183: Activities Not Engaged in for Profit, also known as the hobby loss rule, because that's the document that limits your deductions if your venture is considered a hobby. The document is merely a guide -- and not law -- but it goes into great detail over the nine factors the IRS examines to determine if you are running a business or merely pursuing a hobby.
If you aren't in the mood to read a 64-page document, the IRS also publishes these questions you can ask yourself:
Does the time and effort put into the activity indicate an intention to make a profit?
Do you depend on income from the activity?
If there are losses, are they due to circumstances beyond your control or did they occur in the start-up phase of the business?
Have you changed methods of operation to improve profitability?
Do you have the knowledge needed to carry on the activity as a successful business?
Have you made a profit in similar activities in the past?
Does the activity make a profit in some years?
Do you expect to make a profit in the future from the appreciation of assets used in the activity?
If you answered "yes" a lot, then your activity is more likely a business than a hobby. If you're still unsure, there's always the profitability test.
If you generated a profit in at least three of the last five tax years, including the current tax year, then the IRS considers it a for-profit activity. (The rule extends to two of the last seven years for breeding, showing, training or racing horses.)
Also from U.S. News & World Report: 7 smart ways to use your tax refund
If you haven't generated a profit in three of the last five tax years, and you want your activity to be classified as for-profit for the tax deductions, you will need to do everything in your power to operate your activity as a business. This means keeping extensive records, constantly improving your processes and doing the things a business would do to reach profitability.
One thought worth considering: If you've been trying something for many years and it still isn't profitable, you might want to move onto something else. Five years is a long time to get a business into the black, and this could be a sign that your venture isn't the right one to pursue.

More from U.S. News & World Report

When you are working full time 5 to 7 days per week, it's not a hobby.  Sometimes you don't turn a profit or at least not a big profit.  It's not like working for someone else where you put in 40 hours per week and collect a paycheck.  No, it's much harder than that.  I used to do that and it's not the same thing.  Now I struggle every day to figure out how to keep my businesses going.  I am constantly looking for new income streams.  The IRS has no idea how different being self-employed is as compared to working for someone else.  Most people don't.

Really only matters if you are not creative enough to supply enough expenses to override the profits.

Large corporations do this by bonusing with what otherwise would be called profit, (that is how the oil industry can claim it only makes 5% profit, it is the business plan of the executives that can literally design just what is left after a years work that is for the buzzards of that corporation to feed on for dessert)!
 

Are you sure you want to delete this comment?
DATA PROVIDERS
Copyright © 2014 Microsoft. All rights reserved.
Fundamental company data and historical chart data provided by Morningstar Inc. Real-time index quotes and delayed quotes supplied by Morningstar Inc. Quotes delayed by up to 15 minutes, except where indicated otherwise. Fund summary, fund performance and dividend data provided by Morningstar Inc. Analyst recommendations provided by Zacks Investment Research. StockScouter data provided by Verus Analytics. IPO data provided by Hoover's Inc. Index membership data provided by Morningstar Inc.