Fraudsters file fake tax return as AG Eric Holder
Two Georgia men plead guilty after using attorney general's name, birthday and Social Security number.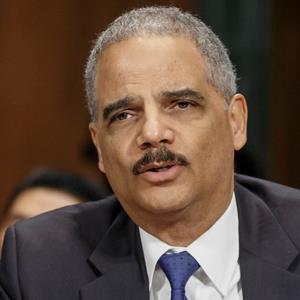 By Andrew Grossman, The Wall Street Journal

Not even the nation's top law-enforcement officer is safe from the growing number of fraudsters filing false tax returns based on stolen identities.
Two Georgia men filed a tax return with the name, birthday and Social Security number of Attorney General Eric Holder in hopes of getting his refund, according to federal prosecutors in Atlanta. Holder was one of several people targeted by Yafait Tadesse and Eyaso Abebe, both of whom have pleaded guilty to charges related to the scheme.
Fraudulent income tax returns are a growing problem that Holder's Justice Department is working to combat. Typically, perpetrators steal the personal information of victims, fill out returns that would entitle them to a refund, then file them electronically.
"Identity theft affects people from all walks of life, from hardworking taxpayers trying to make ends meet, to senior government officials," said Sally Quillian Yates, the U.S. attorney for the Northern District of Georgia.
A spokesman for Holder declined to comment on his case.
In the Atlanta case, Tadesse and Abebe filled out returns saying that all of their victims worked at Wal-Mart and had similar incomes, according to prosecutors. Some of the refunds were paid out, but others were stopped.
The refund claimed by the two men in Holder's name wasn't paid out, a spokesman for the Atlanta U.S. Attorney's office said.
Attorneys for the two men didn't immediately respond to requests for comment.
More from The Wall Street Journal
DATA PROVIDERS
Copyright © 2014 Microsoft. All rights reserved.
Fundamental company data and historical chart data provided by Morningstar Inc. Real-time index quotes and delayed quotes supplied by Morningstar Inc. Quotes delayed by up to 15 minutes, except where indicated otherwise. Fund summary, fund performance and dividend data provided by Morningstar Inc. Analyst recommendations provided by Zacks Investment Research. StockScouter data provided by Verus Analytics. IPO data provided by Hoover's Inc. Index membership data provided by Morningstar Inc.