This is not a good time to call the IRS
The phones are already ringing off the hook, as the agency usually faces its largest call volume right after President's Day. But it's likely to get worse.
By Jonnelle Marte, MarketWatch
Need tax help? Don't bother calling the IRS.
Late February is typically the worst time to call the tax man, since the number of calls being made to the IRS normally peak right after the Presidents Day holiday. But the IRS is already dropping hints that calling the agency any time this tax season is likely to be a painful experience.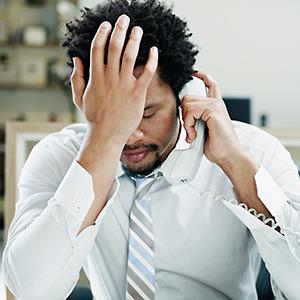 "I want to be up front with you and call it like it is," IRS commissioner John Koskinen told taxpayers in a video posted earlier this month on the agency's YouTube channel. "Given our very limited resources, our phone lines are going to be extremely busy this year and there will frequently be extensive wait times."
Indeed, 39 percent of the 109 million phone calls made to the IRS in 2013 went unanswered, up from roughly 30 percent in 2012, according to a report from the Taxpayer Advocate Service, an independent office of the IRS charged with systemic oversight.
And of those callers who were able to get a human on the phone, the average wait time was nearly 18 minutes, up from 12 minutes in 2011 and much higher than the average 3 minute wait time callers experienced in 2004.
Customer service from the IRS has suffered in recent years as the agency has balanced a heavier workload with fewer resources, Taxpayer Advocate Nina Olson wrote in her 2013 report to Congress. Taxpayers also have fewer opportunities to get tax help from the IRS in person. From 2004 to 2013, as the IRS shut down some offices and reduced staff, the number of tax law questions answered in person at Taxpayer Assistance Centers or local walk-in offices maintained by the IRS dropped 86 percent to 110,000, according to the report.
And if you do reach someone on the phone at the IRS, they may not be as helpful as in years past. Koskinen said in a statement issued Thursday that the IRS is changing the services it offers through its toll-free phone line. Instead, taxpayers are encouraged to visit IRS.gov for answers to their tax questions.
Taxpayers can check the status of their refund checks using the Where's My Refund? tool starting 24 hours after electronically filing a tax return and four weeks after mailing a paper return. That information is generally updated once overnight, so there's no need to check it more than once a day.
Roughly 90 percent of returns are issued within 21 days, so only call if it's been longer than that. People who owe the tax man can use the Online Payment Agreement tool to figure out if they qualify for a payment plan.
You can also order copies of tax returns or transcripts on the site. And the IRS offers publications explaining various credits and deductions to help people figure out if they qualify. Find more guidance from the IRS here.
More from MarketWatch
DATA PROVIDERS
Copyright © 2014 Microsoft. All rights reserved.
Fundamental company data and historical chart data provided by Morningstar Inc. Real-time index quotes and delayed quotes supplied by Morningstar Inc. Quotes delayed by up to 15 minutes, except where indicated otherwise. Fund summary, fund performance and dividend data provided by Morningstar Inc. Analyst recommendations provided by Zacks Investment Research. StockScouter data provided by Verus Analytics. IPO data provided by Hoover's Inc. Index membership data provided by Morningstar Inc.