Why do tax laws still punish 2-income families?
The marriage penalty gives some couples a raw deal when it comes to paying taxes.
This post comes from Krystal Steinmetz at partner site Money Talks News.

When it comes to paying taxes, two-income married couples can be at a disadvantage.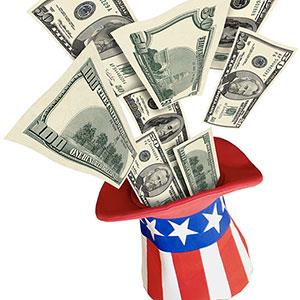 According to National Public Radio, "secondary" wage earners are sometimes penalized by a tax code provision that dates back to the Ozzie and Harriet days -- the so-called marriage penalty. It's when a married couple pay more income tax together than they would as two single individuals.
Melissa Kearney, director of the Hamilton Project at the Brookings Institution, told NPR that the tax system was not designed to penalize working spouses, but it can, and it does.
In 1948, Congress enacted an income tax rate structure for married taxpayers in which spousal income was pooled. It worked well at the time, because most husbands were the primary breadwinners and wives typically stayed at home.
Times have changed.  Kearney explained to NPR that a couple with a highly paid husband in the highest tax bracket would really feel the brunt of the marriage penalty.
"As soon as the wife goes to work, her first dollar of earnings is taxed at our highest marginal tax rate," she says. "So some lawyers have referred to this as really the tax on women."
It also affects low- and middle-income couples. Brad Wilcox, director of the National Marriage Project at the University of Virginia, said low-wage workers are often hesitant to tie the knot because of the financial repercussions. Wilcox told NPR that pooling spousal incomes means a family may no longer qualify for food stamps, the Earned Income Tax Credit or Medicaid.
"They're hesitant to marry because they realize that they would experience a significant financial hit by doing so," Wilcox said.
If you want to see how the marriage penalty affects you, check out the Tax Policy Center calculator here.
If you're paying significantly more taxes by filing as a couple, you may want to consider filing separately rather than jointly. According to TurboTax, you need to keep in mind that filing separately may limit your ability to claim the following tax benefits: Child and Dependent Care Credit, Earned Income Credit, education credits, and tax-free exclusion of Social Security benefits, among others.
Legislation has recently been introduced to ease the marriage penalty. U.S. Sen. Patty Murray, D-Wash., has proposed allowing low- and middle-income couples to deduct 20 percent from the second earner's income when filing taxes. You can read more about Murray's proposed legislation here. NPR said Murray's bill likely won't pass a divided Congress.
What has your experience been like filing as a married couple?

More from Money Talks News

Taxes on wages (in any form – flat or progressive) are the greatest evil of our American Republic. When government is free to steal from you, there are no limits to waste and abuse in government. If a person chooses to work extra hours or two jobs in order to better provide for themselves or their family, they should not be penalized, but that is what happens. The more you make by working harder and longer, the more money is stolen from you, and given to those who spend their lives living off the hard work of others.
The revenue the government needs to provide legitimate constitutional services should be obtained primarily from a national sales tax instead of a tax on wages. All would pay based on consumption, the more you spend the more you pay. The more luxury you surround yourself with, the more you pay. Your choice. A national sales tax system would capture money spent by criminals and by illegal aliens who currently pay near zero in taxes. There would of course need to be exemptions: Cars (already have a federal excise tax) Primary Residence/Rental Properties (vacation homes would be subject to tax/rental profit would be taxed) Fresh Food (Preprocessed foods and prepared meals would be taxed – only fresh/fresh frozen/canned goods would be exempt) Insurance Premiums, Health Care & Certified Education.
Adding another layer of tax to a business would not be fair. Businesses would need to be compensated by keeping a portion of the tax to cover the expense of collection and reporting. A percentage of .20 to .05 would be fair.

Every time I make a little money the government steals 20-30% of it away from me to give away to other countries, lazy Americans and illegals. If my wife and I work longer or work extra, the government hits us with the marriage penalty. If my wife and I work longer or work extra the government penalizes me for saving in a Roth. If I do well in the market, the government hits me with the AMT. My income is nowhere near $250,000. The only hope for this Republic is true Libertarianism.

Just more ways that politicians use the tax code to disciminate among US citizens.  We need to end the income tax now.  As a society we should encourage US citizens to make more income, not less, and taxes is currently a punishment for doing so.  We should discourage the dependency class and the current welfare system rewards dependency behavior.  The politicians use this to their advantage to garner votes and the dependency class is in a position to purchase additional benefits with their votes. 
We need to institute a citizenship fee.  A simple fee, equal for every US citizen that enjoys the priviledge of citizenship.  For those that do not pay the fee they can remain permanent residents if they meet the legal critieria.  Then institute a national sales tax that covers the rest of the required revenue needs, where it is applied equally to all goods and services sold in the US.  Citizens that have paid their citizenship fee are provided a discount on the sales tax.
Equality under the law for US citizens and it prohibits the politicians from using the tax code to influence voting behavior and eliminates the ability of the dependency class that do not contribute to society from influencing the social programs that are provided to US citizens.

Nothing in this article had anything to do with punishing a 2-income household. The wealthy aren't allowed to double-dip on tax credits, and the poor aren't allowed to pretend they make less in order to qualify for welfare programs. Marriage is a partnership, not two people sharing housing costs.

Are you sure you want to delete this comment?
DATA PROVIDERS
Copyright © 2014 Microsoft. All rights reserved.
Fundamental company data and historical chart data provided by Morningstar Inc. Real-time index quotes and delayed quotes supplied by Morningstar Inc. Quotes delayed by up to 15 minutes, except where indicated otherwise. Fund summary, fund performance and dividend data provided by Morningstar Inc. Analyst recommendations provided by Zacks Investment Research. StockScouter data provided by Verus Analytics. IPO data provided by Hoover's Inc. Index membership data provided by Morningstar Inc.