Who's on the edge of the fiscal cliff?
Just who and what will fall by the Dec. 31 deadline? We'll likely keep hanging on by our fingernails until Congress makes some difficult decisions about tax policy.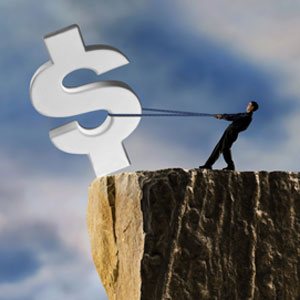 Is the world going to end on Dec. 31? It would seem so judging by the heat generated by Washington's wrangling over the budget. Here's a Wall Street Journal guide to common questions about the "fiscal cliff" facing the U.S. economy.
What is the fiscal cliff?
The fiscal cliff is the phrase that has become associated with the combination of $500 billion in spending cuts and tax increases that are scheduled to automatically start at the beginning of 2013.
Why are we facing a cliff at all?
Think of the past two years as a rolling series of arguments about taxes and spending, none of which have been brought to a satisfactory conclusion. One of the fiercest standoffs happened in summer 2011 over whether and how to raise the U.S.'s borrowing limit.
The patchwork solution that raised the limit and prevented the United States from defaulting was to entrust a congressional committee with the job of crafting a big budget deal. Failure would lead to these across-the-board spending cuts and the natural end of the Bush-era tax code. The committee failed.
Whom do we blame for the fiscal cliff analogy?
(Federal Reserve Chairman) Ben Bernanke, who coined it earlier this year, although linguists notes the idea goes back decades.
Let's start with taxes.
Lots of things expire this year. That's partly because the tax code has become a giant ball of contingencies, reflecting the nation's fundamental disagreement on who should be taxed and how.
The Bush-era income-tax rates, which have been extended once already under President Barack Obama, will expire at the end of the year for all taxpayers. Also ending is a payroll-tax holiday, which means a tax increase for workers of as much as 2 percentage points. In addition, some 26 million additional people face the alternative minimum tax, or AMT, next filing season, which would raise their tax liability sharply unless Congress acts. Other expirations include a variety of smaller tax cuts for both businesses and individuals collectively known as tax "extenders." They include a tax credit for research and development and a deduction for sales taxes in states that don't have an income tax.
And how about spending?
Across-the-board cuts in domestic and, particularly, defense spending would be triggered, including a $55 billion, 9% cut in the defense budget next year -- which comes on top of sizable cuts already in the pipeline -- and another $55 billion in cuts to domestic programs, including a 2% cut to Medicare providers.
What's the economic impact of going over the cliff?
Pretty grim. If no agreement is reached to extend the tax cuts and block the spending curbs and they remain in place for more than a few weeks, the nonpartisan Congressional Budget Office projected the economy would contract 1.3% in the first six months of 2013, with the economy stabilizing in the second half and eventually achieving an annual growth rate of a whopping 0.5%. The agency didn't provide new projections of the unemployment rate if the tax increases and spending cuts went into effect. Earlier this year, CBO estimated joblessness would rise to 9.2% at the end of 2013 if Congress didn't act.
Some financial analysts argue the budget cutting that would automatically take place will eventually boost growth by putting the government on a firmer and more sustainable financial footing. The counterargument is that going over the cliff would cause a) investor panic and b) consumer panic and fundamentally derail what's already a weak economic recovery.
Why are we arguing about this again?
Because a gridlocked Washington couldn't solve the problem before the election, and because the election failed to provide much clarity by returning Obama to the White House and the GOP to the House majority. The fundamental divisions over how the country should tax and spend are real and heartfelt and won't be easily overcome.
What are the biggest differences?
Taxes, specifically the top two tax brackets. Obama campaigned and won on a promise to keep most of the Bush rates the same for everyone except the highest-income Americans. He argued they should "pay their fair share" to help restore the budget. Republicans have pledged to not let that happen, contending such a move would hurt small-business owners who pay taxes through the individual-tax system. Also, the GOP for a generation has pushed for lower rates across the board as a matter of principle.
Thus far, Republicans have offered about $800 billion in new tax revenue by limiting deductions taxpayers can take for things like mortgage-interest payments and charitable donations. Obama wants that, plus the $1 trillion or so that would come from raising top rates on income and investment taxes. Between those two numbers is where the sides would likely have to meet to get a deal.
Is it really all about taxes?
No. Revamping -- or not, as the case may be -- America's social safety net is an equally big cleavage. Democrats want to cut by tinkering, such as trimming payments to medical-service providers in the case of Medicare, although Obama has hinted he's willing to go further. Republicans want to raise a lot more money through what lawmakers call "structural" or fundamental changes, such as increasing the retirement age or requiring wealthier Americans to contribute more to the cost of their health care.
Whats the deadline?
here is a rolling series of deadlines. Congress really wants this wrapped up by Dec. 21, the likely date it plans to recess for Christmas. If that slips, we might be heading toward a smaller, Band-Aid-type fix.
What are the chances we'll go over the cliff?
No one knows. Everyone says it's possible. Some think it likely. It's hard to distinguish between posturing for a negotiating edge and what people really want.
And if there's a deal, will we be done with this?
Sorry, no. Next year, assuming this isn't all dealt with in some kind of omnibus solution, the United States will run out of borrowing room and will have to raise the debt ceiling again. Another bout could emerge in late March, when the government's funding runs out.
And, don't forget, even if there is a big deal that takes some of these questions off the table, the biggest and thorniest tasks (how to redo the tax code; how to tackle Medicare) will be deferred to 2013 under the two-step plan currently under consideration.
This makes me tired.
You might try to get used to it. We're at the beginning of a demographic wave caused by the retirement of the baby boomers, and the costs of supporting them -- in particular their health -- will eventually dwarf the current budget deficits. Until our expected spending comes into line without expected tax revenue, these kinds of dust-ups are going to be a permanent feature of the landscape.
More from The Wall Street Journal and MSN Money
How many people will be forced to quit their jobs next year? Most of them? There have been many articles written about the so-called Fiscal Cliff. No one has mentioned JOB RECOVERY at all. The majority of us know that hired-in executives need to be thrown out of America along with all of the Board Directors. You don't fix finances the way Washington is going about it. You FIRE deadbeats taking too much out of the economy and HEAVE them out of the country in BARRELS. Can anyone deny that Lawyers, Bankers, Financiers, Politicians, Insurers and Administrators have ruined us? We want our AMERICA back. We want degree'd losers to get self-employed really quick and with self-generated funds. Expect to FAIL and not get BAILED. That's what makes an economy. When you inherit... responsibility automatically is included. You have failed to be responsible, don't take and damn the rest of us.

Are you sure you want to delete this comment?
DATA PROVIDERS
Copyright © 2014 Microsoft. All rights reserved.
Fundamental company data and historical chart data provided by Morningstar Inc. Real-time index quotes and delayed quotes supplied by Morningstar Inc. Quotes delayed by up to 15 minutes, except where indicated otherwise. Fund summary, fund performance and dividend data provided by Morningstar Inc. Analyst recommendations provided by Zacks Investment Research. StockScouter data provided by Verus Analytics. IPO data provided by Hoover's Inc. Index membership data provided by Morningstar Inc.