5 last-minute tax problems to avoid
In your rush to get your return filed on time, watch for these pitfalls. Some can be difficult and expensive to fix.
This post is by Laura Saunders at The Wall Street Journal.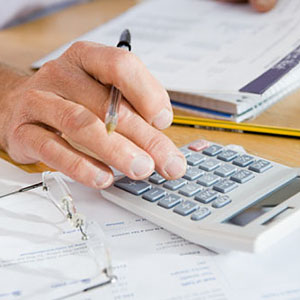 Despite the year-end cliffhanger on Capitol Hill, lawmakers made few surprising changes to the tax code for 2012.
But that doesn't mean taxpayers won't stumble into trouble, given the rise of electronic filing, expanded reporting requirements, computerized document matching — and old-fashioned human nature.
Common problems fall into two general categories. One involves flubs for which taxpayers must fork over interest and penalties — or get a smaller refund. The second category of pitfall includes major quagmires that require enormous of amounts of time, money and trouble to resolve.
Some of these tax disasters are self-inflicted, such as neglecting to open mail from the Internal Revenue Service. Others arise from ignorance of the law, such as filing a joint return with a tax cheat. One of the newest and worst tax nightmares, identity theft, can strike without warning.
"Taxpayers who avoid the worst problems can count their blessings," says David Lifson, an accountant with Crowe Horwath in New York. "Some tax problems are much harder to fix than others."
Here is a breakdown of the thorniest issues, along with ways to avoid them.
Taxpayer identity theft
According to the IRS and National Taxpayer Advocate Nina Olson, taxpayer identity theft is rising at an alarming rate. During last year's filing season, the IRS issued 250,000 special numbers to victims to verify their identity. It already has issued 770,000 for this year.
While some thefts come from stolen wallets containing Social Security cards and the like, thieves also are filching Social Security numbers in sneakier ways, such as from health-care or financial databases. Often the taxpayer's first sign that he or she is a victim of ID theft is a rejected "e-filed" return or an IRS letter saying its filters blocked a suspicious refund.
ID theft often is hard to prevent, although routine measures such as safeguarding information, ignoring suspicious emails and monitoring credit reports closely can help.
ID theft also is difficult to resolve. Olson, appointed by Congress to protect taxpayers' interests, says the IRS has 21 units dealing with ID theft. Often victims must have multiple contacts with different IRS units.
An IRS spokeswoman said the agency is working to streamline the process, adding that most cases are resolved within six months. Some cases take longer, however. Lifson, of Crowe Horwath, says he has a client who has waited nine months for his 2011 refund of $18,000 from the IRS following an ID theft. The client also hasn't resolved related issues with New York state.
The IRS and the New York State Department of Taxation and Finance don't comment on individual taxpayer issues.
If you are a victim, contact the IRS's Identity Protection Specialized Unit and fill out an affidavit.
The toll-free number is 800-908-4490. Experts suggest acting soon. Don't plan on a quick refund.
Daniel Moore, a CPA in Salem, Ohio, notes that ID theft victims who counted on applying 2012 refunds to 2013 estimated taxes probably won't be able to. Lifson also recommends waiting to file the next tax return until the previous year's problem has been resolved, by getting an extension if necessary.
Failing to declare a foreign account
In its zeal to stem offshore cheating, Congress has imposed tough sanctions on taxpayers who don't comply with rules on reporting foreign accounts.
One of the most important forms — the Foreign Bank Account Report — must be received by a separate Treasury Department office by June 30 each year. It's required if the value of foreign accounts exceeds $10,000 during the calendar year. The penalties for not filing can surpass the value of the foreign accounts.
The IRS has a limited-amnesty program that spares offshore account owners from criminal prosecution if they confess, but the price is up to 50% or more of the total account, including legal and accounting fees, say experts.
Not filing at all
This is a problem that never goes away. The normal three-year statute of limitations for many IRS challenges and audits starts when the return is filed —  so people who don't file can never rest easy. Meanwhile, interest and penalties can pile up. Taxpayers who were owed refunds can't collect them after three years — and the refund can't be applied to other years when tax was owed.
Still, some people simply don't file. Jonathan Horn, a CPA in New York, says he prepared 14 years of federal returns for one foot-dragging client who needed to catch up and 12 for another, plus multiple state returns.
Not opening mail from the IRS
This is another problem that can mushroom, notes Ernst & Young tax specialist Greg Rosica.
Taxpayers who ignore IRS notices — and they are always on paper, never emailed — could find themselves with liens on property records or levies on their bank accounts that can ruin credit scores and are difficult to resolve. Some tax experts say they always reply to IRS letters, even if it is merely to send a copy of a previous response.
If you are busy or moving — or worried about receiving mail — consider filing Form 2848 or 8821 with the IRS, which allows the agency to correspond with your tax representative.
Signing a joint return with a tax cheat
The U.S. tax code holds each spouse who signs a joint return liable for all information in it.
About 50,000 taxpayers a year apply to the IRS for "innocent spouse" relief under a special provision of the code, but only about half receive it.
A better move: If you doubt your spouse's tax honesty, don't sign a joint tax return. Instead, use the "married filing separately" status. Doing so can cost more because not all deductions and other benefits are allowed, but it severs joint liability and could save a world of trouble.
More from The Wall Street Journal and MSN Money:
DATA PROVIDERS
Copyright © 2014 Microsoft. All rights reserved.
Fundamental company data and historical chart data provided by Morningstar Inc. Real-time index quotes and delayed quotes supplied by Morningstar Inc. Quotes delayed by up to 15 minutes, except where indicated otherwise. Fund summary, fund performance and dividend data provided by Morningstar Inc. Analyst recommendations provided by Zacks Investment Research. StockScouter data provided by Verus Analytics. IPO data provided by Hoover's Inc. Index membership data provided by Morningstar Inc.