9 tax breaks parents shouldn't miss
After paying expenses for your children all year, be sure to claim all the tax deductions and credits to which you're entitled.
This post is by Leah Ingram of Living on the Cheap.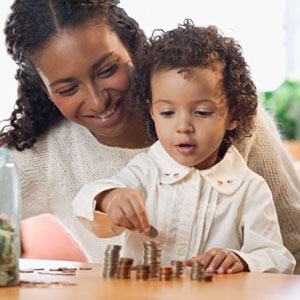 The year our daughter Jane was born, my husband and I almost forgot to claim her on our taxes. She was a newborn, our accountant hadn't seen us in a year -- so she'd never seen me pregnant -- and our tax appointments never involved chitchat, so the fact that we'd become parents wasn't part of the conversation.
Luckily, we somehow remembered. Plus, because we'd been smart enough to apply for Jane's Social Security number while she was still in the hospital after the birth, we were able to use it for the Child Tax Credit.
If you're not claiming all the tax benefits you're entitled to as a parent, you could be missing out on thousands of dollars in credits and deductions every year. Here are nine tax benefits that parents should remember to claim on their returns.
Child Tax Credit: Once you have a baby (adopted children qualify) you can claim up to $1,000 per child on your tax return. As long as your child has a Social Security number and is under age 17 — and meets the IRS criteria (including the child's relationship to you and his/her residence) — the tax credit is yours to claim on your tax return. (Here are 10 tips about the child tax credit from the IRS.)
Dependent Exemption: The IRS allows you to deduct a certain amount from your Adjusted Gross Income just for having dependents (i.e., children). As long as the child lives with you for at least half the year and is under age 19, or is under age 24 and a full-time student, you can claim the $3,800 exemption.
Child and Dependent Care Tax Credit: While this sounds similar to the Child Tax Credit, it's not. A family might be able to claim both. This tax credit allows working parents who rely on some kind of child care to claim a portion of those expenses on their taxes. But get this: The IRS defines childcare not just as daycare but nearly any entity that has a tax ID number that you send your child (under age 13) to while you are working. When my daughters were younger and attended camps, we always made sure we chose camps with tax ID numbers so we could include those expenses as part of the Child and Dependent Care Tax Credit. According to the American Institute of CPAs, this credit could be worth up to $3,000 for one qualifying child and $6,000 for more than one. Many parents I've spoken to have no idea that summer camps qualify.
Volunteer Work Deduction: While the IRS does not have a formal name for this deduction, it's good to know about if you volunteer your time as a Girl Scout leader or a PTA member at your child's school -- and itemize your tax deductions. That is, you can list on your itemized tax return mileage and any documented expenses for which you were not reimbursed related to this volunteer work. To qualify, you must be volunteering for what the IRS calls a "qualified organization," and that includes many nonprofit educational organizations.
Charitable Contributions: If you decide to clean out your child's closet of toys, games and clothing, and then donate them to a "qualified organization" -- and get a receipt -- you can deduct that on your itemized taxes, up to a certain amount. Who knew your kids' clutter could help put more cash in your pocket via a tax deduction? Again, you must submit an itemized tax return to qualify for this deduction.
Adoption Credit: Did you adopt a child in 2012? If so, you may be eligible to claim the Adoption Credit and some expenses related to that adoption on your tax return. Keep in mind that like so many of these tax credits, there are income limits that could affect your eligibility. However, with the Adoption Credit, that "limit" is pretty generous — those earning as much as $189,000 may still qualify.
The American Opportunity Credit: You can claim this tax credit for up to $2,500 for college-related expenses for your child if your household earns less than $180,000.
The Higher Education Tuition Deduction: This deduction, which survived the fiscal cliff, allows you to write off some of your child's college expenses, namely tuition. But, as with the American Opportunity Credit, there are income limits. The most you'll get for this deduction is $4,000.
Earned Income Tax Credit: Families who earn less than a certain amount each year qualify for the Earned Income Tax Credit. Here is the IRS explanation of how that tax credit could affect your 2012 income tax return: Earned Income and adjusted gross income (AGI) must each be less than:
$46,227 ($51,567 married filing jointly) with three or more qualifying children.

$43,038 ($48,378 married filing jointly) with two qualifying children.

$37,870 ($43,210 married filing jointly) with one qualifying child.

$14,340 ($19,680 married filing jointly) with no qualifying children.
Tax Year 2013 maximum credit:
$6,044 with three or more qualifying children.

$5,372 with two qualifying children.

$3,250 with one qualifying child.

$487 with no qualifying children.
Last year, our daughter Jane turned 17. That means that we can't apply for the Child Tax Credit for her because she is too old. However, we still have a few more years for her to be our dependent in the IRS' eyes and allow us to claim her as a deduction on our taxes.
More from Living on the Cheap and MSN Money:
DATA PROVIDERS
Copyright © 2014 Microsoft. All rights reserved.
Fundamental company data and historical chart data provided by Morningstar Inc. Real-time index quotes and delayed quotes supplied by Morningstar Inc. Quotes delayed by up to 15 minutes, except where indicated otherwise. Fund summary, fund performance and dividend data provided by Morningstar Inc. Analyst recommendations provided by Zacks Investment Research. StockScouter data provided by Verus Analytics. IPO data provided by Hoover's Inc. Index membership data provided by Morningstar Inc.