Epidemic of ID theft hits seniors
The IRS is struggling to combat identify thieves who file fraudulent tax returns in the names of older residents who don't need to file.
This post is by Kay Bell at Bankrate.com.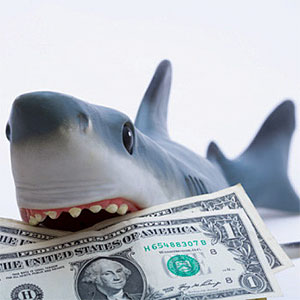 When it comes to identity thieves vs. the Internal Revenue Service, the crooks have the edge. For now.
That was the consensus at a recent congressional hearing examining what the Senate Special Committee on Aging calls an epidemic of identity theft among seniors and other taxpayers.
Why the focus on older Americans? Because many of them aren't required to file a tax return. If a person relies solely on Social Security benefits, that money isn't taxed. Even if they supplement their golden years' earnings, as long as the amount doesn't exceed a certain threshold, the income is not taxable, meaning they don't have to worry about reporting it to Uncle Sam.
Since these senior citizens don't have to file a return, they are often unaware that their identities have been stolen to file fraudulent tax returns, Treasury Inspector General for Tax Administration J. Russell George told the Senate hearing.
And that's where the Catch-22 comes in. If the individuals don't report the ID theft, there's no way for the IRS to know the returns are fraudulently filed. The agency typically doesn't learn about falsely filed returns until the real taxpayers submit the correct, but duplicate, 1040 forms.
So the fake tax refunds are paid out to the criminals. And that means taxpayer dollars are lost.
Increasing tax ID theft
Tax identity theft has continued to increase among all taxpayers, not just older folks. In 2011, the IRS identified more than 1 million such instances. As of Dec. 31, 2012, the IRS reported almost 1.8 million tax ID theft cases.
The 2012 number includes approximately 280,000 cases brought to the IRS' attention by taxpayers who reported they were victims of identity theft. More than 1.5 million ID theft incidents were detected by the IRS as potential identity theft.
George told senators that because of the delay in the start of this year's filing season, his office has yet to compile data or compare trends. "However, it is highly likely that incidents of identity theft will show a continued increase when the current filing season is concluded," he said.
IRS ramps up efforts
The inspector did offer one bit of positive news on federal efforts to combat tax identity theft.
In late March, the IRS announced it was expanding a program designed to help law enforcement officials nationwide obtain tax return data for their investigations and prosecutions of specific cases of identity theft. It's a continuation of a pilot program started in April 2012 in Florida that gave state officials the ability, via a written disclosure consent waiver from the victim, to obtain tax returns filed using the victim's Social Security number.
The pilot was expanded in October 2012 to eight additional states -- Alabama, California, Georgia, New Jersey, New York, Oklahoma, Pennsylvania and Texas. Now such tax information sharing is available in all 50 states and the District of Columbia.
Prosecution of ID thieves will help. Prevention is better.
The IRS says it's working on that, too.
In an op-ed piece in USA Today following the Senate hearing, Deputy Commissioner of the IRS Beth Tucker cited some of the agency's efforts. Among them are security filters used in processing returns. She says the agency's efforts have "already blocked 2 million suspicious returns."
Federal funds key
That's a good start. Here's hoping that Congress will do its part and make sure the IRS has the funding it needs to keep these programs in place and add more as needed to keep identity thieves' hands off our tax returns.
That's not just my wish. TIGTA's George told lawmakers the same thing.
"Without the necessary resources, it is unlikely that the IRS will be able to work the entire inventory of potentially fraudulent tax returns it identifies," he said. "The net cost of not providing the necessary resources is substantial, given that the potential revenue loss to the federal government of these tax fraud-related identity theft cases is billions of dollars annually."
More from Bankrate.com and MSN Money:

The IRS should be abolished and the collection of taxes turned over the the individual states that already have agencies in place. It would put control in the hands of people we already deal with and that are living in our area of the country. It would in effect enrich our home state promoting fair taxation. This would eliminate a tremendous amount of duplication of services.  The IRS consumes over 60% of all the money it collects just to collect it. In addition there are no set regulations involved about audits, they are up to the individual auditors discretion.  I was in public accounting for a number of years and dealt with many auditors both state and federal.  If the cumbersome and tangled tax laws were done away with and a flat federal sales tax imposed in their place it would eliminate the need for rigorous accounting by corporations for the sole purpose of tax management.  It would also even out the tax burdon as everyone even visitors or illegal's would be paying their share.  It would be based on each individuals spending habits and what they could afford to spend.  But that is far far too simple and practical, can you tell I'm not a politician?

I have been filing an electronic tax return since 2001. After transmitting my return I receive word that "IRS has accepted my tax return". Prior to electronic filing, I always mailed my return "Return recipe requested". Perhaps if one wishes acknowledgement they should take the necessary action for such.

My tax return was accepted by the IRS on February 5th I never received my refund of 14,485 I've called the IRS at least 10 times, they tell me that there is nothing wrong with my return, but the treasury is not releasing the funds. On April 10, they sent an email asking the treasury to release the funds for my tax return, they didn't. I contacted the IRS again on May 28th, and they emailed the treasury with a second request to release my funds, I haven't heard a thing and I still haven't receive my refund Where can I get help? 
Are you sure you want to delete this comment?
DATA PROVIDERS
Copyright © 2014 Microsoft. All rights reserved.
Fundamental company data and historical chart data provided by Morningstar Inc. Real-time index quotes and delayed quotes supplied by Morningstar Inc. Quotes delayed by up to 15 minutes, except where indicated otherwise. Fund summary, fund performance and dividend data provided by Morningstar Inc. Analyst recommendations provided by Zacks Investment Research. StockScouter data provided by Verus Analytics. IPO data provided by Hoover's Inc. Index membership data provided by Morningstar Inc.