Is your child a tax credit to you?
Parents and guardians can get a $1,000 tax credit per child if they meet income requirements. Some can even get additional credit.
This post is by Kay Bell of Bankrate.com.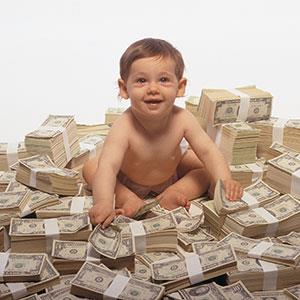 All parents hope that their children will be a credit to them. That can literally be the case at tax time.
The popular $1,000-per-child tax credit was made a permanent part of the U.S. Tax Code, thanks to the American Taxpayer Relief Act, also known as the "fiscal cliff" tax bill, that was enacted Jan. 2, 2013. That's great news for parents, who find the credit is an easy way to reduce their tax bills dollar-for-dollar.
In addition to the financial benefit, there are no records to keep or extra forms to file to claim the child tax credit. You simply enter the proper amount directly on your 1040 or 1040A form.
You will, however, have to fill out a worksheet to figure your exact credit amount. And if you're eligible for the additional child tax credit, there is even more paperwork involved.
Basic requirements
There are also certain tests you -- and your kids -- must meet before the Internal Revenue Service will let you claim the tax credit.
The key requirement is that your youngster be 16 or younger at the end of the tax year.
But the child doesn't have to be your child. A qualifying child in the IRS' eyes also could be your sibling (either full or step) or a descendant of one of these relatives, such as a grandchild, niece or nephew.
As for your kids, they can be yours by birth or adoption, or because your son or daughter was placed in your foster care by a court or authorized agency.
The IRS also looks at how much income you have in providing for most of the child's care.
The credit begins phasing out if you make $110,000 and are married, filing a joint return; earn $75,000 and file as head of household, single or qualifying widow or widower; or make $55,000 and are a married-filing-separ​ately taxpayer.
If you take other credits, they could affect the final amount of child tax credit that you can claim. Instruction booklets for both Form 1040 and Form 1040A contain the worksheets you'll need to figure this credit. You also can find detailed examples in IRS Publication 972, Child Tax Credit.
Getting extra credit
One drawback of the child tax credit is that it is nonrefundable. That means it can help you erase your tax bill, but it won't get you a refund.
Take, for example, Jim and Joan, a couple with two kids who translate to a total child tax credit of $2,000. However, because Jim and Joan's tax bill is $900, they lose some of the tax benefit of the credit. They can use it to wipe out what they owe the IRS, but the remaining $1,100 is effectively lost.
But Joan, Jim and other filers in similar situations might be able to get all or some of that nonrefundable portion back via the additional child tax credit. Again, some calculations will be required to determine the exact amount of this added credit. Generally, this is 15% of your taxable earned income that exceeds $3,000.
And parents with three or more children might be able to get back even more. In this case, parents could possibly get an additional child tax credit up to the amount of Social Security taxes paid during the year, less any earned income credit they received.
Of course, the additional credits, like most child-related duties, require extra time and work. To calculate your precise added tax credit, you'll have to complete a worksheet, then fill out Form 8812 and send it along with your individual tax return.
If you use tax software, that program will take you through the additional steps required to get the bigest tax credit from your children.
Don't let the extra work stop you. The calculations could really pay off.
More from Bankrate.com and MSN Money:

Screwed up tax system and need for overhaul aside, I don't mind the tax credit but I think it should stop at two kids. Same with benefits for welfare. Maybe 3 but I say stop at 2. I think that knowing you only get assistance for the first two would go along way to help deter those who can't seem to figure out what causes kids to be born yet continue to do so even though they can't afford the kids. That combined with the free birth control. Give and take from both sides if you ask me. Not perfect or lone solution but IMO could be a good start to break the cycle and get rid of the leeches. In turn saving money and hopefully helping to stop welfare abuse while getting more to those who actually need it and that the service was meant for. Also anything to slow down population increase will help as well. Love or hate that is my thought, sorry for being somewhat off topic.
I think its time

it creates jobs for nannies and child care facilities that get government funding for certainn programs, while some parents who make more pay a regular rate.
Not having a child is your choice also, so what's your point.
hell I pay child supprot and have to pay taxes on the money i give to my childs mother, who inturns uses it as income with out any taxes to pay on it...
But the refund i get from my state goes as income on thenext years tax return.
the whole tax system is screwed up when you are encouraged to seek a refund vs make total use of you r money throughout the year.
Are you sure you want to delete this comment?
DATA PROVIDERS
Copyright © 2014 Microsoft. All rights reserved.
Fundamental company data and historical chart data provided by Morningstar Inc. Real-time index quotes and delayed quotes supplied by Morningstar Inc. Quotes delayed by up to 15 minutes, except where indicated otherwise. Fund summary, fund performance and dividend data provided by Morningstar Inc. Analyst recommendations provided by Zacks Investment Research. StockScouter data provided by Verus Analytics. IPO data provided by Hoover's Inc. Index membership data provided by Morningstar Inc.