Cliff deal includes goodies for businesses
NASCAR, rum, electric vehicles and algae all got special treatment in the latest tax legislation, though none of the measures got an up-or-down vote from Congress.
This post is by Kay Bell at Bankrate.com.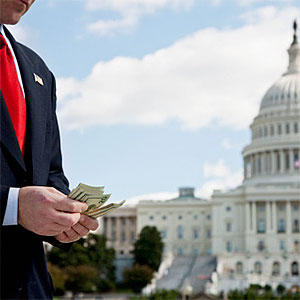 Remember when Congress said it wouldn't vote on major legislation, especially a tax bill, until it had plenty of time to read everything in the bill and let the voters have a look, too?
Yeah, right. If Congress did its job properly -- hey, quit laughing! -- that might one day happen.
But as long as it puts off making hard decisions, such as how to avert the fiscal cliff until the last minute, we're going to keep getting laws that include things we didn't really expect.
The American Taxpayer Relief Act of 2012, which finally made it into law last week, is chock-full of such surprising, uh, goodies.
They are part of the extension measure passed by the Senate Committee on Finance back in August 2012. Known as the Family and Business Tax Cut Certainty Act of 2012, the bill didn't even make it to the full Senate floor for a vote. These are popularly known as tax extenders because they are temporary tax provisions that periodically must be renewed.
The Senate version of the latest extenders included popular tax breaks such as mortgage debt relief and the state and local sales tax deduction, as well as the above-the-line deductions for college tuition and fees and educator out-of-pocket unreimbursed expenses. The bill renewed these and a host of other individual income tax breaks. Taxpayers now can claim them on their 2012 and 2013 tax returns.
It also included a passel of intriguing business tax breaks, many of which are quite specific. They include:
Special depreciation treatment for the cost of racetrack improvements. This tax break, known as the NASCAR loophole, has been in extender bills since 2004. Supporters of the measure say they need the special treatment so they can compete with theme parks, a category in which the motorsports industry is included via this provision. The estimated cost of this temporary tax provision: $70 million.

A tax credit for two- or three-wheeled plug-in electric vehicles. Sounds like a kid's toy, right? But the industry obviously has a good lobbying contingent. These vehicles reportedly are quite popular among deliverymen in New York City. The rest of us outside the Big Apple will foot a $7 million bill for all that Chinese food being taken to Manhattan apartments.

Algae growers get a $59 million tax break. OK, to be fair, it's not the same as the ick growing in my backyard pond. It's grown especially to produce cellulosic biofuel. These folks want to give Willie Nelson's

french-fry-oil-based​

biodiesel fuel a run for its money.

Film and television production operations will get a federal tax break that will allow them to more quickly write off some of their costs for making movies and TV shows in the United States. The tax break, estimated to cost $430 million overall, will provide even larger tax breaks if the productions are filmed in economically depressed parts of the country.

Special lower alcohol tax rate for rum produced in Puerto Rico and the U.S. Virgin Islands and imported to the mainland United States. This cocktail tax break is estimated to cost $22 million a year.
The cost of some of these tax breaks is, in the grand scheme of things, negligible. But continually lumping them into an extenders bill, without putting them to a separate vote in either the House or Senate, is a bad way to run a government.
Former Republican presidential nominee and current Sen. John McCain, R-Ariz., agrees.
"America's national debt is today $16.4 trillion -- $52,000 for every U.S. citizen -- placing us on the path to bankruptcy and risking our children and grandchildren's futures. In the coming weeks and months, Republicans and Democrats will need to come together and make many hard and likely unpopular decisions to get our country's long-term finances back in order. To accomplish this, we'll need the American people on our side," McCain said in a statement issued by his office.
"That's why it's so incredibly disappointing that Members of Congress saw fit to add hundreds of millions of dollars in special-interest handouts to the recently-passed fiscal cliff bill, which had the simple purpose of avoiding massive tax rate increases on average Americans. ... It's hard to think of anything that could feed the cynicism of the American people more than larding up must-pass emergency legislation with giveaways to special interests and campaign contributors," added the senior senator.
McCain also admitted to voting for the fiscal cliff tax bill, but doing so reluctantly in order to keep the country from economic chaos.
Unfortunately, too many other lawmakers apparently aren't bothered by these types of hidden, rushed-through votes. That's why we'll keep seeing them become law.
More from Bankrate.com and MSN Money:
DATA PROVIDERS
Copyright © 2014 Microsoft. All rights reserved.
Fundamental company data and historical chart data provided by Morningstar Inc. Real-time index quotes and delayed quotes supplied by Morningstar Inc. Quotes delayed by up to 15 minutes, except where indicated otherwise. Fund summary, fund performance and dividend data provided by Morningstar Inc. Analyst recommendations provided by Zacks Investment Research. StockScouter data provided by Verus Analytics. IPO data provided by Hoover's Inc. Index membership data provided by Morningstar Inc.