Get the paperwork for charitable deductions
Exactly what proof you need to document and deduct your generosity varies by type of donation. Get the receipts even if you don't plan to itemize.
This post is by Rachel Louise Ensign of The Wall Street Journal.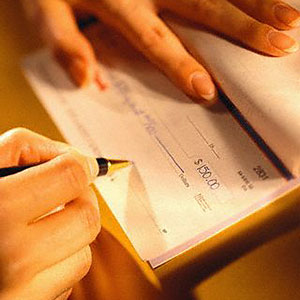 When giving to charity this season, don't forget to get the documentation you'll need for tax purposes.
You typically can deduct charitable gifts if you itemize deductions on your tax return.
But you'll need the proper documentation of your contributions, which differs based on the type of the charitable gift.
You should get documentation even if you're currently not planning to itemize, says Trina Weingarten, a certified public accountant in Lawrenceville, N.J. It's not uncommon to wind up itemizing deductions even though you hadn't planned to during the tax year, she says.
For cash contributions, you'll need a basic record of an individual gift of less than $250, which includes a bank or credit-card statement, according to the Internal Revenue Service.
If the cash gift is $250 or more, you'll typically need a written acknowledgment from the charity. It will need to include the amount contributed, whether or not you got any goods and services from the organization in return, and the value of any goods or services received, says Jana Schartz, a lead tax researcher at the Tax Institute at H & R Block
A "thank you" note from a charity can often fit the bill if it includes the necessary criteria, says Weingarten.
The documentation rules are different for noncash contributions like books or furniture, and depend on which of four brackets the value of your single contribution — or group of similar items like clothing donations — falls into.
The four brackets range from under $250 to more than $5,000, with documentation requirements getting more rigorous in the higher ones. For instance, in the highest bracket you usually need, among other things, a written appraisal of the value of the goods. In the lowest bracket, you generally need a receipt from the charity with its name and a date, location and description of the donation.
See Internal Revenue Service Publication 526 for more details.
More from MSN Money and The Wall Street Journal:
DATA PROVIDERS
Copyright © 2014 Microsoft. All rights reserved.
Fundamental company data and historical chart data provided by Morningstar Inc. Real-time index quotes and delayed quotes supplied by Morningstar Inc. Quotes delayed by up to 15 minutes, except where indicated otherwise. Fund summary, fund performance and dividend data provided by Morningstar Inc. Analyst recommendations provided by Zacks Investment Research. StockScouter data provided by Verus Analytics. IPO data provided by Hoover's Inc. Index membership data provided by Morningstar Inc.