Kickstarter's potato salad guy faces a $21,000 tax bill
With a tax hit like that, it had better be some pretty delicious potato salad.
This post comes from Brianna Ehley at partner site The Fiscal Times.

It's only been a few days since a top contender for the world's most obnoxious Kickstarter rocketed to Internet fame, making a bland BBQ side dish one of the most discussed topics online, right alongside the World Cup, ISIS and the latest revelations about the NSA's surveillance program.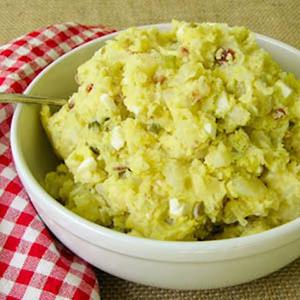 You can thank Ohio native Zack "Danger" Brown for creating the now infamous potato salad Kickstarter, which has now raised more than $70,000 from about 5,000 donors (who presumably have nothing else to do with their money).
You read that right: 70 Grand in about three days ... and Brown has several weeks to go until his fundraising campaign ends.
That's a lot of dough for potato salad — but as the good people at the Tax Foundation point out, "Danger" Brown's fundraising comes with some financial peril. The growing potato salad account is going to sprout up quite a hefty tax bill.
Since funds raised through the Kickstarter and similar sites are considered income (though some expenses are deductible if they are related to the project) the Tax Foundation estimates that if the campaign stopped right now, with a total of $70,912, Brown would have to pay about $21,000 in taxes on his hilarious Internet joke. That's a lot of salad.
Here's the Tax Foundation's rundown, which includes some assumptions about Brown's tax filing and the expenses he could deduct:
More from The Fiscal Times
DATA PROVIDERS
Copyright © 2014 Microsoft. All rights reserved.
Fundamental company data and historical chart data provided by Morningstar Inc. Real-time index quotes and delayed quotes supplied by Morningstar Inc. Quotes delayed by up to 15 minutes, except where indicated otherwise. Fund summary, fund performance and dividend data provided by Morningstar Inc. Analyst recommendations provided by Zacks Investment Research. StockScouter data provided by Verus Analytics. IPO data provided by Hoover's Inc. Index membership data provided by Morningstar Inc.