4 ways to get your taxes done free
Most Americans are eligible for free tax preparation, but many don't realize that. Here's where to find help.
This post comes from Brandon Ballenger at partner site Money Talks News. 

Tax season is finally here: The IRS began accepting returns on Jan. 30. But before you rush to make an expensive appointment, check out cheaper options.
Estimates suggest that Americans spend more than $100 billion a year on tax preparation. But, according to the IRS, 70% of Americans are eligible for free filing software, and other free professional help is also widely available. If you wouldn't pass up an easy deduction, why would you overpay to file? 
Options vary depending on your age and income level, but practically everybody can find help that's cheaper than a tax pro.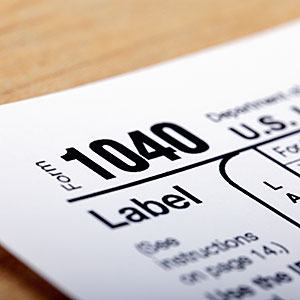 Income below $51,000? Free in-person help
Check out the IRS' Volunteer Income Tax Assistance program, or VITA. It offers free preparation by trained volunteers, complete with information on tax credits you might qualify for. Most include free electronic filing as well.
There are thousands of locations across the country in schools, libraries, malls and community centers. You can look up free tax prep locations by ZIP code. There are five within as many miles in my area, and only one requires appointments. You can also call 800-906-9887 to find a location.
Although many take walk-ins, providing they show up with all their paperwork, it's probably a good idea to make an appointment just in case. The closer to April 15 we get, the more hectic things will be.
Free in-person help for people 60 and older
If you have low to middle income, particularly if you're 60 or older, you're eligible for the Tax Counseling for the Elderly program. These preparers, provided through the AARP, have special knowledge of tax issues related to retirement and pension plans.
You don't have to be an AARP member to qualify. Just use their website to find an AARP tax aide near you, or call 888-227-7669. When I did a check for locations near me, I found three within 15 miles of my home.
Free online prep and filing for incomes $57,000 or less
Make $57,000 or less and you can use free tax preparation software through the IRS Free File program. Answer a few basic questions, and the IRS will help you pick from among free tax preparation options.
While those sites will help you prepare and file without charge, there's often a fee for filing a state return, amending your federal return, or pulling up a previous year's return. Fees vary, but often run from $10 to $40. So shop around, get your taxes right the first time, and keep both digital and hard copies when you file.
Free online filing and tax help for everyone
There are two components to IRS Free File -- the free preparation help for those with gross incomes at or below $57,000, and online filing that is free for everyone. If you're ready to fill out your own forms, use the IRS' Free File fillable forms instead of mailing in a paper version.
While using the fillable forms doesn't provide the step-by-step guidance of software or the personal touch of human volunteers, you're still not out in the cold. If you get stumped, you can always get free help from the IRS by visiting a local office or calling 800-829-1040.
Another option is IRS.gov. It has every tax publication and a searchable tax FAQ. Perhaps it's not the simplest thing to navigate, but you can't beat the price.
More on Money Talks News and MSN Money:

Just got an email from EBAY They want people to write their senators because Senator Dick Durbin D-IL is proposing new taxes. He has proposed that states collect taxes from internet purchases. This bill is coming up this year and your input is needed. For many of us who use EAY, this is like taxing our yard sale. Do you see how this Democrat from a broke state can create a new tax obligation for the whole country if he gets his way? These broke , corrupt, and mis-managed states are about to drag the rest of us down. I don't mean this just against the Democrats...This is just wrong for the rest of the states ,just because this guy is looking for more money. Off topic but I thought you should know what EBAY is sending out today. I am no longer allowed to post on Yahoo, Blocked because of posts like this. So if someone can get this out on Yahoo pages, the country needs to know who is sponsoring this.

Most of you socialist will not like my comments here but this is my take on overweight people..Leave them alone. We as a society are growing more and more less tolerant of someone who is not in the normal range in many matters, weather it be obesity, the way we dress, the material we read etc. The fact is this is a nation of diverse individuals and the issue of insurance is based on a large group of people covering both ends of the spectrum sharing the cost thus lowering it for all of us. I myself am not overtly overweight, I eat well balanced meals and exercise quite intensely for atleast 45min to 2hrs each day yet my BMI is considered high. I have a friend who works out with me sometimes (nothing regular) rarely eats what is good for him, junk food on regular bases, always deserts, and drinks way too much beer and yet he is very slender. So who's to say which of us will live longer and why should I be punished because I'm not in the correct slot for BMI. My muscle mass is above average and bone structure is med to lg. I love riding bicycles and participate in 2 to 3 century rides each year. So I think for a man of 62 I'm in reasonable condition but using your logic I should pay more than someone setting on a couch slurping beer and eating chips and who knows what other unhealthy issues, but if there BMI is better than mine they pay less. Get real here we all make choices in life some good some bad but this type of behavior is not much more than adult bulling which seems to be a major topic for kids so lets not do it to adults and set the example.

for those of you who do not know, they came after the drinkers many years ago. tv commercials were banned and the martini lunch was taboo. now it's the smokers, the obese. what next? tall, blonde, short and brunet, black, white, short arm syndrome, big feet? all this amounts to is a way to keep the obamacare reasonable rates from taking place and allowing insurance companies to continue with premiums none of us can afford and the gov. gets it's tax increase via penalties for not having insurance in the first place. we are all in so much bull-s---. btw. the fed. u.s.d.a is the gov. division that has produced a food pyramid that we have been using as a guide for healthy eating over the past 50 + years and it turns out we are not so healthy but are obese because of it!.
Are you sure you want to delete this comment?
DATA PROVIDERS
Copyright © 2014 Microsoft. All rights reserved.
Fundamental company data and historical chart data provided by Morningstar Inc. Real-time index quotes and delayed quotes supplied by Morningstar Inc. Quotes delayed by up to 15 minutes, except where indicated otherwise. Fund summary, fund performance and dividend data provided by Morningstar Inc. Analyst recommendations provided by Zacks Investment Research. StockScouter data provided by Verus Analytics. IPO data provided by Hoover's Inc. Index membership data provided by Morningstar Inc.