Beware these 6 tax scams
Avoid scammers trying to steal your identity and others who urge you to cheat.
Updated Feb. 11, 2013, at 2:43 p.m. ET.
This post comes from Brandon Ballenger at partner site Money Talks News. 

Nothing is certain except death, taxes and people scared to death of taxes.
That's part of what makes tax season ripe for con artists. They prey on fear and lurk anywhere they catch a whiff of quick money. Even prison inmates find ways to defraud taxpayers out of millions. 
Here are some common tax-related rip-offs, including both the kind that might be done to you as well as the kind that might be done by you. 
1. Phishing
Most of us have laughed off emails claiming we've won the lotto. But a scary email purportedly from the IRS might be more persuasive in getting us to share our personal information.
Here's all you need to know: The IRS says it never contacts taxpayers by email, text message or social media. If you get an email that requests personal information and appears to be from the IRS, forward it to phishing@irs.gov. If you get snail mail or a phone call you're not sure about, contact the IRS at 800-908-4490 to verify.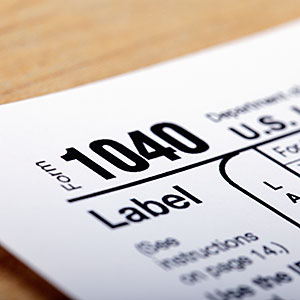 2. Fishy accountants
If you have a pro doing your taxes, make sure that pro is playing by the rules. Some preparers will suggest inflating your refund by fudging numbers or faking information, sometimes in exchange for a cut of the extra refund money. Just say no.
Remember: No matter who prepares your return, you're signing it and you're on the hook for what's on it.
Back in 2011, the IRS established a program requiring tax preparers to take competency tests and continuing education courses, but that program was recently struck down in court. So for now anyone can charge money to prepare taxes, which means it's vital to ask about background, education, and credentials.  
3. Fuzzy math
Maybe you've been tempted to inflate charitable contributions and other deductions to minimize taxes.
People cheat on taxes for lots of reasons, from believing taxes are unconstitutional to convincing themselves everybody does it. But before you slide down this slippery slope, keep in mind what can happen if you get caught.
Between October and December of last year, the IRS launched criminal investigations of nearly 1,300 people. About 85% of those cases ended with somebody in prison, with sentences averaging four years.
Obviously, criminal cases result from offenses more serious than inflating a deduction or two. Most IRS actions involve audits, penalties and adjustments, not courtrooms and prison. Still, honesty is the simplest, and best, policy.
4. Offshore income
Some people reason that money the IRS doesn't know about is money they don't have to pay taxes on. So they try to hide it abroad by using foreign accounts and credit cards, wire transfers, international trusts, insurance plans, and other vehicles.
This is considered tax evasion, and there's a pertinent law whose acronym is suspiciously close to "FATCAT" -- the Foreign Account Tax Compliance Act or FATCA. Penalities for offshore tax schemes range up to an additional 75% of the original tax bill in civil cases. Criminal cases may result in fines up to $250,000 and five years in prison.
5. False forms
Some people use myriad forms to claim credits they aren't eligible for, either through ignorance, deceit or on the advice of an unscrupulous preparer.
Says the IRS, "One version of the scheme is based on the bogus theory that the federal government maintains secret accounts for its citizens and that taxpayers can gain access to funds in those accounts by issuing 1099-OID forms to their creditors, including the IRS."
6. Frivolous arguments
Taxpayers can come up with the strangest deductions. Sometimes they get through: A stripper was once able to count breast implants as a business expense, according to a list of unusual deductions from Kiplinger.
There's a whole section of the IRS website devoted to failed tax arguments, including gems such as "taxes are voluntary" and "I don't qualify as a 'person.'"
It also says this about penalties: "Taxpayers who rely on frivolous arguments may also face criminal prosecution for: (1) attempting to evade or defeat tax under section 7201, a felony, for which the penalty is a fine of up to $250,000 and imprisonment for up to 5 years; or (2) making false statements on a return under section 7206(1), a felony, for which the penalty is a fine of up to $250,000 and imprisonment for up to 3 years."
More on Money Talks News and MSN Money:
Are you sure you want to delete this comment?
DATA PROVIDERS
Copyright © 2014 Microsoft. All rights reserved.
Fundamental company data and historical chart data provided by Morningstar Inc. Real-time index quotes and delayed quotes supplied by Morningstar Inc. Quotes delayed by up to 15 minutes, except where indicated otherwise. Fund summary, fund performance and dividend data provided by Morningstar Inc. Analyst recommendations provided by Zacks Investment Research. StockScouter data provided by Verus Analytics. IPO data provided by Hoover's Inc. Index membership data provided by Morningstar Inc.