Should we all pay more taxes?
Would it be wrong to expect the middle class to pay higher taxes to help reduce the federal debt?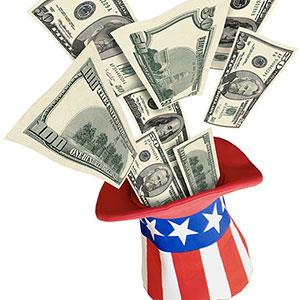 If I had a dollar for each time I've heard someone say that we're burdening our kids and grandkids with a huge federal debt -- Rick Santelli's recent rant about "all kids left behind" should count for a lot -- I'd happily give that money to the U.S. Treasury.
I'd be in good company. Last year righteous Americans donated a record $7.7 million -- over and above their tax bills -- to cut the nation's debt, CNN says. 
It could use some help. With the federal debt at $16.4 trillion, the Congress has racked up a big stack of IOUs, which means we all owe this. You may disagree about how essential it is to reduce this large amount immediately, but we can all agree that the interest on the debt -- $220 billion in 2012, says U.S. News & World Report -- could be better spent elsewhere.
For whatever reason -- lack of political will is at or near the top of the list -- the president and Congress decided as part of the so-called fiscal cliff pact to raise income and investment taxes only on those making more than $400,000. (I'm not counting the 2% increase for payroll taxes for Social Security, which nearly every worker will pay. It was generally understood that the payroll tax holiday was a temporary stimulus measure that would end.)
Now President Barack Obama is talking about closing tax loopholes that favor the wealthy, as the next phony crisis -- votes on raising the debt ceiling and automatic and drastic spending cuts put off by the fiscal cliff deal -- approaches. Others believe the solution should be drastically shrinking the size of government.
Now, if you read personal finance blogs, you know that reduced spending is only part of the solution for restoring fiscal sanity in a household overwhelmed by debt. The other half is raising revenue. And that's where all the rest of us come in. Wouldn't a modest tax increase on the middle class -- not just the wealthy -- help the country? Surely more households could be taxed a little more without triggering another recession.
The idea surfaces from time to time but is hardly heard above the din of so many complaining about their tax burden.
"But in fact, most Americans in 2010 paid far less in total taxes -- federal, state and local -- than they would have paid 30 years ago," reported The New York Times in late November. "According to an analysis by (the Times), the combination of all income taxes, sales taxes and property taxes took a smaller share of their income than it took from households with the same inflation-adjusted income in 1980."
Since 1980, state and local taxes increased while federal income tax rates declined. If it doesn't feel that way to some old-timers, there's a reason. Adds The Times, "The average American in 2010 paid 30% more of income in payroll taxes (for Social Security and Medicare) than in 1980, even while paying 27% less in federal income taxes."
The Times says that those making more than $200,000 a year were the biggest beneficiaries of federal tax cuts over the years. But others with lower incomes also gained, so isn't it fair that more of us should pony up now?
Among those who agree are:
New York City Mayor Michael Bloomberg, who suggested in 2011 that the Bush tax cuts be allowed to expire across the board.
Former U.S. Senator (and NBA star) Bill Bradley, who said last summer on CNN, "The deficit is one problem (we face) -- and that requires taxes on a lot of people, not just the wealthy."
Wrote David Callahan, a senior fellow at Demos, at the end of November:
"Only 13% of voters earlier this month agreed that income taxes should go up for everyone, according to exit polls. And only 33% agreed that taxes should be raised to help tackle the deficit.

 

"Now, it would be one thing if all these Americans against higher taxes also wanted to see spending cuts. But, of course, that is not the case."
He proposed that all the Bush tax cuts be allowed to lapse on Dec. 31. Then Congress could vote to extend them for other than the rich only long enough to get through the economic recovery.
If the Bush tax cuts had been allowed to expire for everyone, that would have raised federal revenue by $4 trillion over 10 years. The last federal budget was $3.7 trillion, with a deficit of $1.1 trillion. Letting the Bush tax cuts die would have helped fill the gap that's now being paid for with borrowed money.
What do you think? Should middle-class taxpayers share more of the tax burden -- now or in the future, once the economy is more robust? Why shouldn't they be asked to pay a little more? I'm reminded of a comment I once read about how paying taxes used to be considered a duty, a responsibility -- a privilege, in fact.
More on MSN Money:
DATA PROVIDERS
Copyright © 2014 Microsoft. All rights reserved.
Fundamental company data and historical chart data provided by Morningstar Inc. Real-time index quotes and delayed quotes supplied by Morningstar Inc. Quotes delayed by up to 15 minutes, except where indicated otherwise. Fund summary, fund performance and dividend data provided by Morningstar Inc. Analyst recommendations provided by Zacks Investment Research. StockScouter data provided by Verus Analytics. IPO data provided by Hoover's Inc. Index membership data provided by Morningstar Inc.