Now is the time to buy Apple
Ignore the short-term negativity and look instead at how the new iPhones will appeal to 2 key markets.
Apple
's (
AAPL
)
two new iPhones
may not be as groundbreaking as some people had hoped, but they may be good enough to give the company's moribund stock price the jolt that has proved elusive this year.
The company, which gets about half its revenue from the devices, is making the right moves at the right time by offering options to customers of differing means.
Cash-strapped users who are looking to get the most bang for their buck may find the colorful, plastic 5c (pictured below), which starts at $99, to their liking. So-called early adopters are going to like the 5s, whose processor is twice as fast as its predecessor's and 40 times as speedy as the first iPhone's. It also features a new, more powerful camera and a fingerprint security device that analysts say make it attractive for mobile commerce.
Shares of Apple, which had climbed 11% over the past month ahead of the announcement,
fell about 2%
to close at $494.64 Tuesday in a classic buy-the-rumor, sell-the-news situation. Investors should look beyond these short-term price fluctuations, because the stock is too cheap to ignore.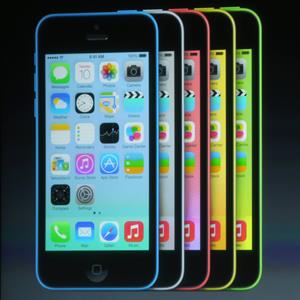 The shares trade at a price-to-earnings multiple of about 12.64, which according to Reuters is a five-year low. Expectations for the company have also hit rock bottom. Wall Street analysts aren't seeing much in the way of revenue growth for the next two quarters. Earnings per share are also predicted to fall during the same time.
Though this sentiment seems ominous, it presents a rare buying opportunity for Apple shares. For all its weaknesses, Apple is still an aspirational brand. That means quite a bit in these uncertain times.
If the 5c can win over at least some users in markets like China who are buying low-cost phones powered by
Google
's (
GOOG
) Android, Apple will be in great shape. The 5s seems like it's cool enough to win over Apple fans who want the latest and greatest smartphone. And if the economy goes south, cash-strapped buyers will snap up in the 5c instead of the 5s.
In other words, Apple has covered its bases and covered them well. These new phones may not be a grand slam, but they're well timed to meet the needs of the marketplace. And in today's economy, that's really good.
Jonathan Berr does not own shares of the listed stocks. Follow him on Twitter @jdberr.
ABOUT TECHBIZ
Start investing in technology companies with help from financial writers and experts who know the industry best. Learn what to look for in a technology company to make the right investment decisions.