Cisco's stumble creates a time to buy
Regard CEO John Chambers' downbeat outlook skeptically. This tech giant tends to underpromise and overdeliver.
During the height of the Internet bubble, the one stock that many people felt they had to own was Cisco Systems (CSCO), a provider of the technological underpinning that keeps the Internet running. Now, the company that some thought was invincible has fallen back to earth. And that's making its stock an attractive buy.
Shares of the San Jose, Calif., company, which topped $64 in 2000, plummeted yesterday, falling 7.2% to $24.49 in the wake of CEO John Chambers' cautious earnings outlook for the year. The company also announced plans to cut 4,000 workers even though its quarterly earnings were better than Wall Street expected.

Because its equipment is used by so many big corporate and government clients, Cisco is also viewed as a bellwether for the broader economy.  
Although Chambers, who is well-respected on Wall Street, said during the earnings conference call that he was proud that the company delivered what he called "record results," he also sounded worried about the challenges that lie ahead. He called the current economic recovery "more mixed and inconsistent than others I have seen."
In the U.S., Cisco increased sales with large enterprise customers by 9% and saw a 12% increase from commercial customers. But that wasn't enough to offset a 30% drop in Asia. Sales in Europe were also weak.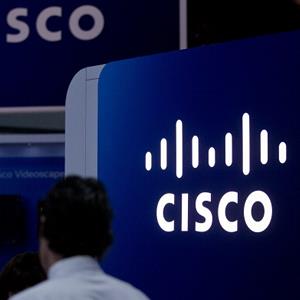 Much of Cisco's previously explosive growth has been tied to the massive data centers big companies have built. However, that market has cooled, and Cisco hasn't expanded fast enough in new areas that have growth potential, such as cloud computing, to make up the difference, according to The New York Times.
Chambers is admired for being proactive in anticipating industry shifts, which is why he's cutting Cisco's workforce and slashed its earnings outlook for the year.

He certainly has no need to panic, however, because the company's earnings appear to be fine. Net income in the last quarter rose $2.27 billion, or 42 cents per share, versus $1.92 billion, or 36 cents per share, a year earlier. Revenue rose 6% to $12.42 billion.
Some might wonder whether Chambers is being overly conservative with his forecast, given his reputation for underpromising and overdelivering for shareholders. That would make this a good time to buy Cisco. The shares certainly are cheap, trading at a price-to-earnings multiple of 14.18, which is well under their five-year high of 20.89, according to Reuters. The average 52-week price target on Cisco is $26.88, about 10% above where it recently traded.
Investors can put their faith in Chambers, who has been CEO since 1995. He survived the dotcom bust and certainly can endure whatever challenges lie ahead in the current economic climate.
Jonathan Berr does not own shares of the listed stocks. Follow him on Twitter @jdberr.
ABOUT TECHBIZ
Start investing in technology companies with help from financial writers and experts who know the industry best. Learn what to look for in a technology company to make the right investment decisions.