Facebook shares soar on mobile ad growth
The company says mobile advertising grew by more than a third as revenue and earnings jump. The stock tops $30 after hours.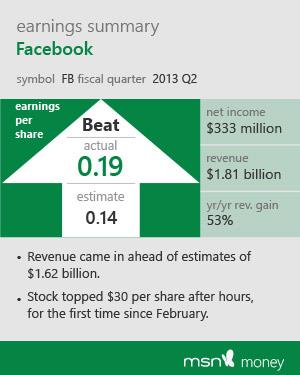 Updated: 5:30 p.m. ETFacebook
(
FB
) shares were soaring after hours Wednesday, as second-quarter earnings and revenue handily beat Wall Street estimates.
The shares were trading above $30, a level they haven't seen since February, as the company reported a 58% increase in earnings per share and a 53% increase in revenue.
Mobile advertising revenue helped fuel the gains. It was 41% of revenue in the quarter, or $743 million, and CEO Mark Zuckerberg said Facebook has more mobile users than regular users. The health of the mobile business was a key question ahead of the report.
Facebook earned 19 cents a share after one-time charges in the quarter, up from 12 cents a year ago. Analysts had been looking for 14 cents, with some thinking it might reach 15 to 17 cents. Revenue was $1.81 billion, up from $1.18 billion a year ago and ahead of the Street estimate of $1.62 billion.
The shares were up $5.10, or 19.2%, to $31.61 at 5:20 p.m. ET. The regular close of $26.51 was up 38 cents. With the closing price, the shares are up 6.6% in July but down 0.4% on the year -- a residue of the company's legendarily awful initial public offering in May 2012. If the after-hours price holds on Thursday, the shares will be up more than 18% on the year.
Facebook has struggled to right the ship since its IPO. It went public at $38 a share and promptly crashed. The price was too high, and there were serious technical problems in getting trades executed at Nasdaq. The shares bottomed at $17.55 in early September. The shares are up more than 50% since that bottom, but it has struggled since Jan. 28, when it hit $32.51.
Ahead of the report, investors were hoping for a bullish view of Facebook's mobile business, which generated about 30% of revenue in the first quarter. They got it.
There was also concern about its international business. It has had little presence in China or India. About 75% of revenue comes from the United States, Canada and Europe.
And there will be questions from analysts on the 5 p.m. ET conference call -- about Facebook's success with Instagram and other features. Instagram had more than 100 million users in the first quarter, and the company on Sunday said its Facebook For Every Phone application is being used by 100 million people a month.
Daily active users averaged 699 million in the quarter, up 27% from a year ago. The company had 1.15 billion monthly active users as of June 30. Of those, mobile users were 819 million.
Facebook's earnings came after stocks were flat or modestly lower. The
Dow Jones industrials
(
$INDU
) fell 26 points to 15,542. The
Standard & Poor's 500 Index
(
$INX
) was off 6 points to 1,686, while the
Nasdaq Composite Index
(
$COMPX
) was basically flat at 3,578.
The
Nasdaq-100 Index
(
$NDX
), which tracks the largest Nasdaq stocks, finished up 10 points to 3,041. Facebook was the eighth-best performer.
Apple
(
AAPL
) was the leader, up $21.52 to $440.51. The gain added 18 points to the index.
Broadcom
(
BRCM
), off $4.82 to $27.01, was the laggard.
More from Top Stocks
ABOUT TECHBIZ
Start investing in technology companies with help from financial writers and experts who know the industry best. Learn what to look for in a technology company to make the right investment decisions.