Twitter honchos hit $4 billion jackpot
The co-founders of the social network rocketed into the billionaires club as shares surpassed $45 Thursday.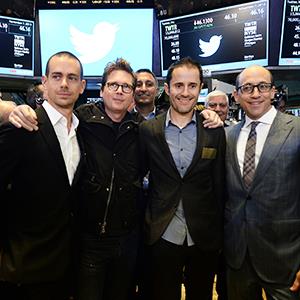 By Robert Frank,
CNBC
Talk about a good morning.
Twitter (TWTR) co-founders Evan Williams and Jack Dorsey, along with CEO Dick Costolo, just saw their combined paper wealth soar to more than $4 billion as the company's shares popped following its initial public offering.

The stock was priced at $26 a share but had soared to more than $46 a share by 2 p.m. ET Thursday.
Williams (pictured, second from right), who with 56.9 million shares has the largest count, saw the value of his paper fortune blow past $2.56 billion. That's nearly twice the estimates for his post-IPO wealth even as late as Wednesday night.
Dorsey's (pictured, left) 23.4 million shares are now valued at $1.06 billion, officially putting him into the billionaire's club. Granted, his wealth was estimated by many to be more than $1 billion before the IPO, based on projections for Twitter and Square.
CEO Costolo (pictured, right) told CNBC this morning that the IPO was not about personal wealth. And none of the founders or executives are cashing out, instead putting all the money into the company. Still, Costolo's paper fortune soared to more than $345 million.
Of course, the Twitter trio most likely will see their stock fortunes swing wildly in the coming months. Although all of them probably would say they don't look at their stock wealth while they're trying to change the world 140 characters at a time, I'd guarantee they looked this morning.

More from CNBC
ABOUT TECHBIZ
Start investing in technology companies with help from financial writers and experts who know the industry best. Learn what to look for in a technology company to make the right investment decisions.