Apple's next trump card is mobile payments
If done right, the company's mobile payments solution could have the potential of bringing in $100 million or more in revenue each year.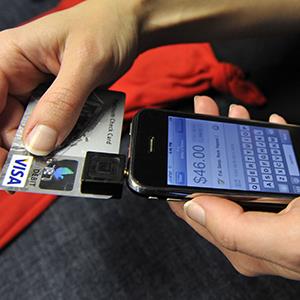 Since hitting a 52-week low of $385.10 on April 19, shares of
Apple
(
AAPL
) have recovered somewhat and have stayed above $450 thus far in May.
It seems like investors are slowly but surely regaining their confidence in the Cupertino, California-based company, whose stock had taken a hammering in the months leading up to April 19 because of falling gross margins, a perceived lack of new ideas and increased competition from Korean rival
Samsung
(
SSNLF
).
"I think a year ago when Apple stock was on its sort of unstoppable run-up toward $700 per share, a lot of people on Wall Street and elsewhere had expectations about the company that have proven to be a bit unrealistic," explained NPR's technology reporter Steve Henn on the precipitous drop of Apple shares earlier this year.
"People really expected that Apple was going to introduce some kind of new blockbuster product, probably a television set," he said, "and that this new product category would open up a new
multi-billion-dollar​
line of business for Apple. Obviously, that hasn't happened."
"[But Apple's] not in trouble," Henn continued. "You know, Apple's iPhone business alone is bigger than all of
Amazon
(
AMZN
), and it's growing faster than Amazon."
Indeed, investors seem to be recognizing that Apple is still an enormously profitable company with an incredible $140 billion cash hoard, and that iPhone and iPad sales are still going from strength to strength.
And for all the talk about the iWatch or Apple TV being the next game-changing innovation, it might be software innovation in the realm of mobile payments that proves to be Apple's future stock catalyst.
Apple's Passbook app, a digital wallet that stores your loyalty cards and vouchers, was the company's first venture into the mobile payments space. The mobile payments space is now led by
eBay's
(
EBAY
) PayPal and Square, with
Google
(
GOOG
) Wallet and Isis, a joint venture between
AT&T
(
T
),
T-Mobile
(
DTEGY
) and
Verizon
(
VZ
), gaining little traction.
"The difficulties in offering a mobile payment solution is that it requires the same technological implementation at both the handset and retail level," Adam Grunwerg, editor at Investing.co.uk, tells Minyanville, "which is largely why Google's mobile payment solutions (Google offers NFC [near field communication] capabilities in its Android Nexus S smartphone) haven't taken off yet."

But Apple already possesses an ultimate trump card over Google and other competitors: its ability to leverage 500 million iTunes accounts with credit cards.
"Apple's iTunes platform boasts over 500 million accounts with a credit card on file, and if they can begin offering fingerprint authorization on their new iPhone, which is very likely given their acquisition of [mobile security firm] AuthenTec last year, then they'll have a huge advantage in reducing fraud transactions and activity, which makes up 5-20% of merchants costs," Grunwerg elaborates. "Furthermore, charge backs and fraud activity are the things that have prevented Apple from offering mobile payment solutions in the past, according to Dan Schatt at PayPal. Fingerprint identification would reduce most of these."
Given the size of Apple's user base and the ability to save money on reduced fraud activity, merchants should be more easily convinced to adopt Apple's technology when it is introduced than they have been thus far with NFC-based solutions.
A successful "iPay" service could portend doom for the likes of
Visa
(
V
),
Mastercard
(
MA
), and
American Express
(
AXP
) -- because Apple is likely to create a platform that would bypass them. This way, it can keep the transaction fees it would otherwise pay credit card companies.
A recent research report from Citi projected mobile payments "could see a transaction value of $1 [trillion] by 2016." If Apple could capture just 5% of the market, it would process some $50 billion in transactions. Assuming it charges a 1% fee for each transaction, that's a cool $500 million in revenue per year.
It all sounds too good to be true, of course, and it could be if Apple doesn't get the execution right. Perhaps that's why CEO Tim Cook has been downplaying expectations that a mobile payments solution is coming anytime soon, saying that the line of business is "in its infancy."
"I think it's just getting started. Just out of the starting block," the Apple CEO said on an earnings call in April.
It's probably wise that Cook is being extra cautious about mobile payments. Consumer trust and confidence in the security of the system is critical for any mobile payments platform to succeed, and given Apple's recent track record with services – Apple Maps, anyone? – it would do well to take its time and unveil something only when it's been perfected.
More from Minyanville:
ABOUT TECHBIZ
Start investing in technology companies with help from financial writers and experts who know the industry best. Learn what to look for in a technology company to make the right investment decisions.