Splitting up Sony isn't a cure-all
Hedge fund investor Daniel Loeb's call to spin off the entertainment businesses would be smart, but it's still no reason for others to invest now.
Long before there was
Apple
(
AAPL
),
Sony
(
SNE
) was synonymous with cutting-edge technology, with must-have products like the Walkman, which launched in 1979, and the PlayStation, which debuted in 1994. Sony has tried for years for another hit without much success, and at least one big investor has waited long enough.
Billionaire Daniel Loeb reportedly has acquired a 6.5% stake in Sony through his Third Point hedge fund, and he wants the firm to spin off its entertainment businesses. Sony CEO Kazuo Hirai (pictured), who has been cutting costs to bolster profits, is balking at the idea.
The logic behind Loeb's plan is pretty compelling: The entertainment businesses are gems compared with the company's laggard consumer electronics operations.
During the latest fiscal year, sales at Sony Pictures Entertainment rose more than 20% to $7.79 billion, thanks to hits such as "Skyfall," the latest James Bond film, "The Amazing Spiderman" and the depreciation of the yen. Operating income rose nearly 50% to $509 million, helped by TV series such as longstanding viewer favorite "Wheel of Fortune."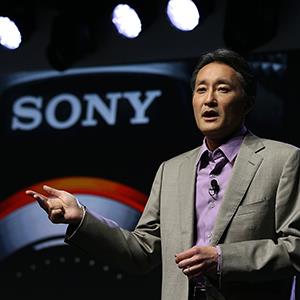 Hits from artists such as Pink and Justin Timberlake helped push operating income at Sony Music Entertainment up to $369 million. Sales were little changed at $4.69 billion, which isn't bad given the state of the music business.
But overall, Samsung (SSNLF) and other rivals are crushing Sony in technology.
TV sales fell 38% during the last fiscal year. Sony lost money in its mobile business, though it expects smartphone sales to rise. Sales of gaming consoles fell 12.2% last year, but there Sony also sees better times ahead when the PlayStation 4 is released -- though it's unclear when that will happen.
For investors, there's no reason to buy Sony's U.S. shares now even though they have plunged about 50% over the past five years. The shares, which have run up sharply on the Loeb news, trade at price-to-earnings ratio pegged by Reuters at 64.72, far too expensive to be worth buying. And they're trading near the 52-week price target of $20.98.
Given the uncertainties surrounding Sony, investors should steer clear of this stock. The company's struggles are far from over.
Jonathan Berr does not own shares of the listed stocks. Follow him on Twitter @jdberr.

ABOUT TECHBIZ
Start investing in technology companies with help from financial writers and experts who know the industry best. Learn what to look for in a technology company to make the right investment decisions.