Is Netflix's subscription model in danger?
The company may be seeing increased pressure from free, ad-based content.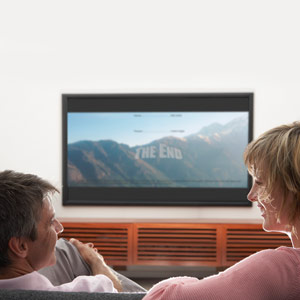 By Louis Bedigian
Investors who think Netflix (NFLX) has a great business model might want to consider the opinions of those surveyed by Zogby Analytics.
The business research firm, which surveyed 1,000 U.S. adults, found that 75% of them prefer free ad-supported content instead of having to pay for ad-free content.
While the survey's findings may receive a resounding "duh!" from the mobile game development community (GigaOm), the results are a stark contrast to the subscription levels for Netflix versus other streaming video services.
Netflix currently serves more than 30 million users worldwide (Wired). Without a free, ad-supported option available, all of those subscribers pay a monthly fee to gain access to Netflix's massive library of videos.
Hulu, on the other hand, has less than 20 million viewers for its free service, and an additional 3 million users who pay for Hulu Plus (World Tv PC).
This has to make you wonder: are consumers more willing to pay for ad-free content than they care to admit?
Not necessarily. While Hulu is only six years old, Netflix has had more than 10 years to build its customer base. The company has done a remarkable job of convincing some of its DVD-by-mail users to sign up for the streaming service, all the while attracting millions of additional customers that were entirely new to Netflix.
Hulu is only available in two countries: the United States and Japan. Netflix, on the other hand, can be found in dozens of countries worldwide.
With only two markets available, Hulu has garnered somewhere between 12 million and 19 million viewers (MediaPost). At one time the site reportedly had as many as 28 million unique viewers (GeekWire).
So polls aside, consumers are voting with their actual usage. And this could mean that the ad-supported model does not work, that users are abandoning Hulu in droves, and that Netflix will continue to reign supreme.

More from Benzinga
ABOUT TECHBIZ
Start investing in technology companies with help from financial writers and experts who know the industry best. Learn what to look for in a technology company to make the right investment decisions.