RadioShack rests on a solid foundation
Value investors ought to appreciate the beauty of a stock that's been counted out by Wall Street but is making the right moves to get itself back in the game.
Beauty truly is in the eye of the beholder. As a value investor I will buy "ugly ducklings" because I sometimes see what others don't.
Of course, sometimes what I'm seeing is all a mirage, and my investment thesis is just plain wrong. But that's par for the course; the hope is that I'm right more often than I am wrong.
This investment strategy is not always about buying names with bright futures that have fallen on hard times. It's often about buying names that Wall Street essentially has given up for dead.
I can think of no better example than RadioShack (RSH). 
Here was an antiquated retailer (strike one), in the retail electronics business (strike two), with falling revenue, declining margins and substantial debt (strikes three, four and five). There was little to like, given the numerous retailer troubles we've seen in recent years, especially in the electronics space.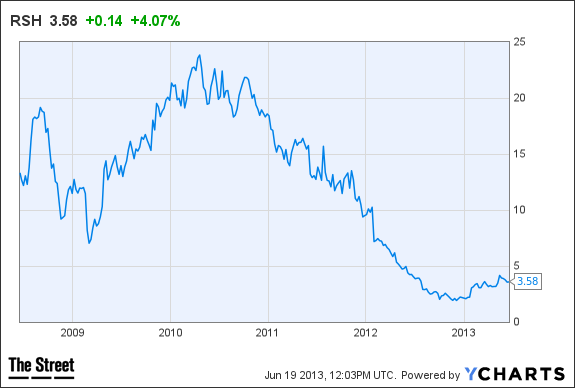 I resisted RSH for quite a while, as the stock continued to decline and the dividend grew fatter; a dividend that I knew needed to be eliminated, which it was. Finally, when the stock became a net/net (trading below net current asset value), I started taking a position, and have added along the way as the price fell further.
The good news is that RSH has been a big winner so far this year, and is up 69% year to date, and that includes a 15% pullback since mid-May. 
The stock is still universally disliked, however, and certainly not out of the woods. But there have been some positive changes in recent months, including a new CEO, Joe Magnacca, who had success at drugstore chain Duane Reade prior to becoming an executive VP at Walgreen (WAG).
After joining the company in February, Magnacca gave himself 100 days to put together a revival plan to present to the board of directors. The company also ended a mobile phone partnership with Target (TGT), which ended up being a low-margin disaster for RadioShack.

The retailer certainly has its work cut out for it, but the buzzards have stopped circling, at least for now. The company currently trades for 1.38 times net current asset value, an extremely depressed valuation, and .68 times tangible book value per share. While there was ample cash at the end of the first quarter, $435 million or $4.36 per share, that will probably continue to decline as the company attempts to right-size itself. There is also ample debt, $712 million, which will need to be addressed.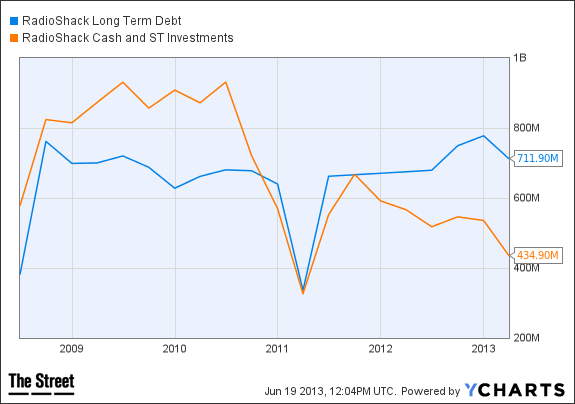 I expect that we'll learn more about the progress of Magnacca's 100 day plan when the company reports second-quarter earnings next month. Consensus expectations appear to be fairly low, with revenue of $814.7 million, a 22% decline from last year, and a loss of 23 cents per share, suggesting to me that the stock's recent gains could be extended.
More from TheStreet.com

ABOUT TECHBIZ
Start investing in technology companies with help from financial writers and experts who know the industry best. Learn what to look for in a technology company to make the right investment decisions.