Amazon continues its war on waiting
The e-commerce giant has reportedly acquired mobile payment startup GoPago, a move that will help the retailer's association with 'never having to stand in line to pay -- ever.'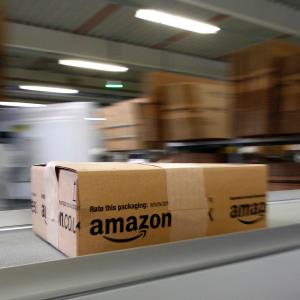 By Jim Probasco

How could one improve on a mobile app that lets customers use their smartphone to pay for merchandise while standing in line at a store? 
How about one that lets you pre-pay in the cloud, avoiding the line altogether?
According to TechCrunch, Amazon (AMZN) reportedly just acquired GoPago, a startup that offers such an app. This would put Amazon in competition with mobile payment company Square, eBay (EBAY) subsidiary PayPal and even major credit card companies like Visa (V) and MasterCard (MA).
More importantly, the move would help make Amazon the brand most identified with "never having to stand in line to pay – ever." Think about it: no standing in line to checkout at the grocery store, your favorite restaurant, or anywhere else for that matter.
The GoPago "pay before you arrive" idea was conceived in 2007 when co-founder Leo Rocco missed Barry Bonds's record-breaking home run while standing in line at a ballpark concession stand. Rocco felt there had to be a better, more efficient way to process transactions between retailers and customers. The result: GoPago.
The terms of the rumored deal with Amazon were not disclosed. The company first appeared on Wall Street radar after it was announced that JPMorgan Chase (JPM) had taken an investment stake in 2012.
Italian newspaper accounts that formed the basis for the TechCrunch report indicated that Google (GOOG) had also expressed interest in GoPago.
The newspapers also said it was not clear whether Amazon would hire any of the current 70 GoPago employees or if the online retail giant was merely buying the technology.
Amazon, which has in many ways lagged when it comes to mobile payments, was reportedly working on an "ambitious" new project, GoPago's other founder, Vincenzo di Nicola, told the Italian press. Exactly what that new project is remains a mystery, but the company recently launched a digital wallet service called "Log In and Pay with Amazon"
linked to a customer's Amazon account. GoPago fits nicely into a potential Amazon mobile payments master plan – especially one that includes a "never stand in line to pay again" option.
One other idea suggested by TechCrunch is related to a long-rumored smartphone launch by Amazon. With the reported acquisition of GoPago, Amazon's plans could include cell phones and Kindle tablets pre-configured to handle mobile payments through Amazon.
At the time of this writing, Jim Probasco had no position in any mentioned securities.
Read more from Benzinga:
ABOUT TECHBIZ
Start investing in technology companies with help from financial writers and experts who know the industry best. Learn what to look for in a technology company to make the right investment decisions.