Amazon unveils set-top box for streaming
With its new $99 Fire TV device, the online retail giant aims to compete in the living room with Google, Apple, Roku and others.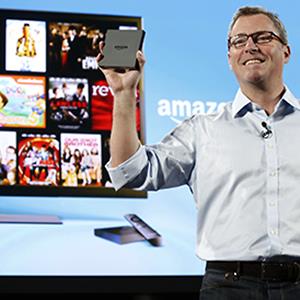 By Shalini Ramachandran and Greg Bensinger, The Wall Street Journal
Amazon.com (AMZN) unveiled a new set-top box Wednesday dubbed "Fire TV" to stream video, games and music to the TV set, an ambitious move by the Internet retail giant to break into the living room.

The new device is part of its Kindle series of products, and is priced at $99 -- the same prices as Apple's (AAPL) competing box, Apple TV. Fire TV begins shipping Wednesday and offers features like voice-activated search, gaming capabilities, instant-start video and a FreeTime program for kids.
Amazon also is offering a gaming controller for $39.99.
The device thrusts Amazon into an intensely competitive market in streaming devices, particularly following the runaway success of Chromecast from Google (GOOG) last year. Amazon will have to distinguish the FireTV from Roku's set-top box, Apple TV and gaming consoles such as Xbox from Microsoft (MSFT), all of which carry similar apps and services. (Microsoft owns and publishes MSN Money.)
The voice-activated search on the Fire TV differentiates the device from Roku, Apple TV and others, which rely on painstaking letter- by-letter scrolling and clicking to search for shows and other content. At its launch event in New York, Amazon demonstrated how users can speak into the remote control and the device quickly displays relevant content on the television screen.
The FireTV also will feature thousands of games, many at under $2.
But the price point is likely to disappoint some consumers who had expected Amazon's product to hit the low end of competitors' range, as its Kindle offers a lower-cost alternative to Apple's iPad.
Amazon's Kindle tablets, which also allow for video streaming, range between $139 and $299, depending on the features, according to Amazon's website.
Prices for streaming devices have been falling as more companies have gotten in on the race. The Chromecast was so popular in part because of its $35 price tag and just this month, Roku began shipping its own dongle, pricing it at $49.99. Such devices provide a low-cost alternative to buying an expensive gaming console or Internet-connected TV for consumers' streaming needs.
Strategy Analytics, a consumer technology research firm, says sales of streaming media devices such as Roku are expected to grow 24 percent this year. Apple today leads the market, followed by Roku and Google, the firm said.
Until now, Amazon has been dependent primarily on others' devices for its streaming video service tied to Prime memberships.
Some industry watchers had even expected a tie-in to the Prime service, or even a reduced cost of the new device for Prime members, but no such plans were immediately unveiled Wednesday.
The device is Amazon's first all-new hardware line since it introduced the first Kindle Fire tablet computer in 2011. The FireTV will give Amazon access to the living room, a crucial battleground as traditional pay TV distributors such as Comcast (CMCSA) and others step up their technology push. Because the company could gather new data about viewing behavior beyond its own apps, Amazon could presumably target customers with better product recommendations and advertising.
Amazon has been pushing more heavily into streaming video to compete with Netflix (NFLX) and Hulu, including announcing this week a lineup of six new television shows it will produce exclusively for Prime customers. It is renewing comedy "Alpha House" for a second season, following its critical success in 2013.
Amazon this month announced an annual $20, or 25 percent, price bump to its Prime service, citing rising delivery and content acquisition costs. The company had been trying to bulk up the service ahead of the price increase, including by tempting retailers and brands to list products for the first time on Amazon.com and holding discussions on a streaming music service, according to people familiar with those initiatives.
Prime is a valuable service for Amazon because by some estimates members spend more than twice as much on goods and services than do non-members.
More from The Wall Street Journal
ABOUT TECHBIZ
Start investing in technology companies with help from financial writers and experts who know the industry best. Learn what to look for in a technology company to make the right investment decisions.