Amazon's drones aim to take out UPS, FedEx
CEO Jeff Bezos unveiled plans for Amazon Prime Air, a service that would offer automated airborne delivery to your doorstep in less than 30 minutes.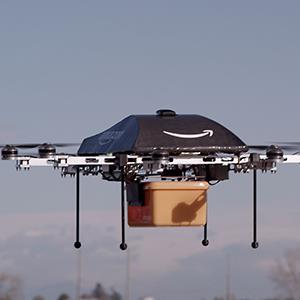 By Chris Ciaccia
NEW YORK (TheStreet) -- Amazon (AMZN) has disrupted countless industries: retail, cloud computing, music, movies and so much more. Now, it's onto its latest venture: upend the shipping business.
In what is an attempt to disrupt the businesses of UPS (UPS) and FedEx (FDX), Amazon CEO Jeff Bezos unveiled Amazon Prime Air on CBS' (CBS) "60 Minutes" Sunday -- a new drone delivery service Amazon hopes will allow it to get packages into the hands of customers in 30 minutes or less.
"I know this looks like science fiction," Bezos said during the interview, while unveiling the automated delivery drones. "It's not."
The normally secretive Amazon unveiled the drones to interviewer Charlie Rose, who promptly responded with "Oh my God!" when seeing the technology at work.

There's been a lot of early skepticism about the drones, with a parody Twitter (TWTR) account set up, and millions taking to other forms of social media to mock the new service. Bezos, however, is extremely optimistic about the service and its future. "It will work, and it will happen," Bezos said during the interview. "And it's going to be a lot of fun."

Bezos did not disclose the cost of the drones, or how they would work, which are dissimilar to the drones that the U.S. military uses.
The idea behind the drones from the Seattle-based Amazon is to get packages and goods into the hands of customers quickly, with the drones originating from Amazon's vast network of fulfillment centers. Though Amazon has never publicly confirmed how many fulfillment centers it has around the United States, Bezos did confirm during the interview the e-commerce giant is on its seventh generation of distribution centers. Amazon has said previously it intends to add a net seven fulfillment centers this year.

Currently, Amazon offers Amazon Prime, which allows users to pay $79 per year to get free two-day shipping for goods. The service also allows users to watch movies and television shows, in an attempt to compete with Netflix (NFLX). 

Amazon has never publicly disclosed how many customers use the Prime service, though it did say in its third-quarter earnings release it signed up "millions of new Prime members."
On Amazon's website, the company noted it expects to roll out the service by 2015, and is working with the Federal Aviation Administration to get the drones to be regulated. "Putting Prime Air into commercial use will take some number of years as we advance the technology and wait for the necessary FAA rules and regulations," Amazon said on its on its website.
This new service is a clear shot at the business models of UPS and FedEx, which Amazon currently relies upon. Amazon does not break out how much in operating expenses it incurs by shipping with UPS and FedEx, but it's clearly a significant portion of expenses. In Amazon's third quarter, it had worldwide shipping costs of $1.53 billion, and $811 million in net shipping costs. Net shipping costs accounted for 4.7 percent of of all worldwide sales.
During the third quarter, fulfillment expenses totaled $1.96 billion, or 11.5 percent of Amazon's $17.09 billion in quarterly revenue.

By contrast, UPS generated $13.52 billion in revenue during the third quarter, up 3.4 percent year-over-year, with $8.3 billion of that revenue coming from domestic operations. UPS recently announced it was raising 2014 shipping prices by 4.9 percent for "UPS Ground, Air and International, and Air Freight rates within and between the U.S., Canada and Puerto Rico," according to a press release.
Similarly, FedEx announced in September that FedEx Express package and freight rates would go up an average of 3.9 percent.

To curb those costs, in part, Amazon recently announced a deal with the United States Postal Service to deliver packages on Sunday. 

During the "60 Minutes" interview, Bezos said the drones can carry packages up to 5 pounds as far as 10 miles, after taking off from Amazon's fulfillment centers.


Amazon has over 225 million customers around the world, according to the interview. Though drones (Bezos's phrase) are not coming tomorrow, it's clear Amazon is working on disrupting yet another industry. One drone at a time.

More from TheStreet.com
ABOUT TECHBIZ
Start investing in technology companies with help from financial writers and experts who know the industry best. Learn what to look for in a technology company to make the right investment decisions.