An iPhone slowdown? Not on Cook's watch
Earnings in Apple's most-recent quarter show that iPhone demand isn't flagging. And Apple executives don't foresee the market getting saturated any time soon.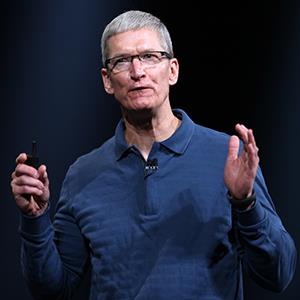 By Chris Ciaccia, TheStreet
Pulling his best Maximus Decimus Meridius from "Gladiator," Apple (AAPL) CEO Tim Cook on Tuesday asserted that he doesn't see any slowdown in the high end of the smartphone market. That's a positive sign for investors, even if Apple's fiscal-third-quarter​ financial results included some "bite marks." 

"I don't subscribe to the common view that the higher end, if you will, of the smartphone market is at its peak," Cook told investors and analysts while commented on the company's quarterly earnings.
Judging by Apple's earnings report, Cook may be right, but it's also noticeable that the average selling price of iPhones continued to trend lower this quarter, dropping under $600 to $580. That was a big decline sequentially, as the iPhone 4/4S continued to sell well.
"iPhone (average selling price) declined 4% Y/Y to $581 which suggests relatively strong uptake of the lower priced iPhone 4 (vs. iPhone 5) in developing markets," wrote Deutsche Bank analyst Chris Whitmore in a note.
Total iPhone sales were up sharply during the quarter, as Apple sold 31.2 million iPhones. That's up from 26 million in the year-ago quarter, showcasing 20% growth, which is pretty healthy for the company's biggest revenue generator.
The iPhone 5 is still the top-selling phone for Apple.
Catalysts for growth 
More growth from Apple's biggest revenue driver is expected, noted Credit Suisse analyst Kulbinder Garcha. "We see further catalysts to spur growth," Garcha wrote in note to clients. "First, we see an iPhone 5S and low-end iPhone coming in late FQ4 and believe that, net-net, this will be additive to growth. Second, we see additional carriers as a significant driver for Apple's high-end business, and continue to believe that China Mobile (CHL) and NTT DoCoMo (DCM) will be added within the next 12 months. We see the potential for iPhone volumes to grow to over 200mn in CY14."
Garcha has an "outperform" rating on the stock and a 12-month price target of $525.
There's been concern that the team of Samsung and Google (GOOG) have been eating Apple's proverbial lunch in the smartphone market, as Apple has continued to lose market share. Some have even started to move toward Microsoft (MSFT) Windows Phones. (Microsoft publishes MSN Money.)
While the iPhone may have lost market share, consumers still rate the gadget highly. Apple's chief financial officer, Peter Oppenheimer, noted this week that iPhone is the "No. 1 or No. 2 selling smartphone manufacturer in most markets IDC tracks, including North America, Western Europe, Russia, Turkey, Australia, Hong Kong, Thailand, Malaysia and Singapore."
Apple is expected to release the iPhone 5S later this year, and many are expecting a low-end iPhone to help spur growth at Apple's biggest segment.
Perhaps a low-end iPhone, which many are expecting, won't be priced as aggressively as some think. 
The market's low end
Analyst Garcha believes the phone would retail at $329, and Apple could deliver 35% gross margins on the phone at full ramp. However, a $580 average selling price for the quarter suggests maybe Apple won't be as aggressive on price with the low-end model, and that could alleviate investors' fears.
The timing on when the new products are coming is still a bit of a mystery, as Apple's gross margin guidance for the fourth quarter was slightly higher than some were expecting. For the fourth quarter, Apple expects revenue to be between $34 billion and $37 billion, with gross margins between 36% and 37%.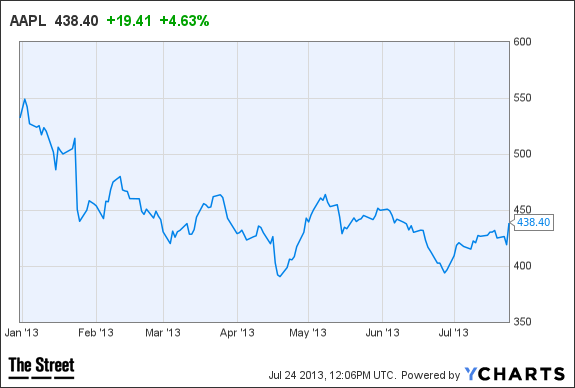 On the earnings call, Oppenheimer said, "We're on track to have a very busy fall." Many were expecting a September refresh for the iPhone, but it could be October, with margins seemingly better than expected for the fiscal fourth quarter.
The iPhone was able to generate $18.2 billion in revenue for Apple, despite concerns of a slowdown in the smartphone market, and the high-end in general. The iPhone 4 is likely to be bumped out when the 5S is released, which could hurt margins a bit as new products tend to have lower margins than older ones, and while Apple squeezes out every last bit of profit it can.
While other products like the iPad, Mac and to a much lesser extent, iPods, still generate significant amounts of revenue for Apple, the company still gets the majority of its sales from the iPhone. Cook's confidence should resonate a chord with investors that perhaps some of the fears are overblown. "I think we're at the very front end of that and so I think we have lots of growth opportunities."
The results proved there may be a little turning of the tide on fears relating to Apple. Shareholders may finally start to respond by bidding up shares. 
More from TheStreet.com
DATA PROVIDERS
Copyright © 2014 Microsoft. All rights reserved.
Fundamental company data and historical chart data provided by Morningstar Inc. Real-time index quotes and delayed quotes supplied by Morningstar Inc. Quotes delayed by up to 15 minutes, except where indicated otherwise. Fund summary, fund performance and dividend data provided by Morningstar Inc. Analyst recommendations provided by Zacks Investment Research. StockScouter data provided by Verus Analytics. IPO data provided by Hoover's Inc. Index membership data provided by Morningstar Inc.
ABOUT TECHBIZ
Start investing in technology companies with help from financial writers and experts who know the industry best. Learn what to look for in a technology company to make the right investment decisions.