Analyst, citing PC resilience, upgrades Intel
The chip maker is in line to benefit from an enterprise refresh cycle, gains in Windows tablets and cost cuts, according to a long-time skeptic of the stock.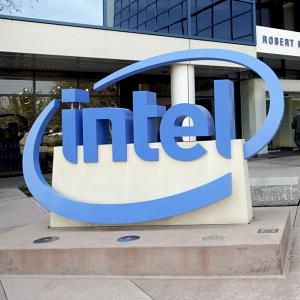 By Chris Ciaccia,TheStreet
The reports of my death have been greatly exaggerated. -- Mark Twain
While the great author may have been the first to express this sentiment, it's applicable to today's PC industry.

As such, the weakness in Intel (INTC) shares may be unwarranted, according to Piper Jaffray analyst Gus Richard, who has upgraded Intel shares to "neutral" from "underweight," with a $22 price target.
The chip industry is now solidly in the post-PC era, but "PCs are not going away anytime soon," Richard wrote today in a research note. The analyst said he expects a modest refresh in the corporate PC demand from April 2014, as Microsoft (MSFT) plans to release Windows 8.1 in the fourth quarter of this year. (Microsoft owns MSN Money.)
Aside from the corporate refresh cycle, Intel is benefiting from its move into processors for tablets; it's preparing for the launch in the year's second half of its Bay Trail processors for tablets. 
While low-end tablets will continue to replace low-end notebooks, they're not going to replace corporate machines, especially the higher-end ones, anytime soon, Richard wrote. As such, he modestly raised his fiscal 2014 estimates for Intel and said he expects revenue to rise in the mid-single digits after two straight years of decline.
A huge opportunity in tablets 
Bay Trail is expected to see a huge amount of support, as tablets continue to be more prevalent not only for consumption needs but for computing needs as well. That could be a huge opportunity for Intel, something it really hasn't had in the past.

"While some cannibalization of low-end consumer notebooks is likely to occur, we believe Bay Trail will be accretive overall to revenue and could drive ~$500M to $1B to the top line," Richard wrote. "Intel is aggressively promoting Bay Trail, and we think this platform will finally drive market share for the company in tablets."
In addition to valuation and Intel's 4.1% dividend yield as catalysts, the analyst identified the Intel Developer Forum in mid-September as a potential catalyst for the stock. Intel is expected to use the event to highlight its mobile chip offerings, particularly Bay Trail.
Another catalyst could come out of the company's upcoming analyst day event, on Nov. 21, which will be the first time new CEO Brian Krzanich has a "chance to unveil his vision for the company," Richard wrote.
More from TheStreet.com
ABOUT TECHBIZ
Start investing in technology companies with help from financial writers and experts who know the industry best. Learn what to look for in a technology company to make the right investment decisions.