Analyst downgrade weighs on Tesla shares
After an impressive run, the stock has limited upside and is vulnerable to any variation from the seamless execution the maker of electric vehicles has exhibited to date.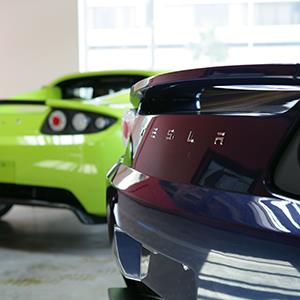 By Chris Ciaccia, TheStreet
Tesla Motors (TSLA) was falling on the Nasdaq today on worries that a bubble had been brewing in the shares, among the hottest on Wall Street in recent sessions. 
Lazard Capital Markets downgraded shares of the carmaker to "neutral" from "buy" today, saying the risk-reward is now less compelling than had been. 

Lazard analyst Aditya Satghare believes shares could fall as low as $100 (from a 52-week high of $158.88). "While the high-growth nature of the company or stock momentum could take shares higher, downside could be meaningful in the event of any potential execution issues," Satghare wrote in a note to clients.
Tesla has come a long way this year, having recorded its first profitable quarters in the company's 10-year history, but the share price already largely reflects that, according to Satghare. 
Along with becoming a successful premium manufacturer comparable to BMW, Mercedes and the like, Satghare believes there is limited upside over the next 12 months, despite the company's "almost flawless execution in light of management's track record."
Tesla has been the beneficiary of incredible demand for its Model S, as it delivered 5,150 units in its most recent quarter, generating $405 million in sales. However, the company only earned 5 cents per share, and on a non-GAAP basis.
Much of the recent run in share price is due to the third-generation model, which CEO Elon Musk has said will be priced around $35,000. That car isn't due for a few more years, as Tesla works on continuing to improve supply of the Model S. Then, the Model X, Tesla's SUV vehicle, is scheduled to start gaining more attention from executives, as the vehicle comes on line in late 2014.
Refreshing the product line 
Like technology companies such as Apple (AAPL) or Google (GOOG) that refresh products every year, or other auto manufacturers such as Ford Motor (F) and General Motors (GM), Satghare believes Tesla will refresh its product line up, ultimately getting at least 10 models of vehicles by the end of the decade. He expects the Model S to be refreshed in 2016, with a new model introduced in 2018. He speculates that a coupe version and a grand touring type version of the Model S are possible as well.
The Model X, which Musk has previously stated will be launched in late 2014, will see a refresh in 2017, and the third-gen vehicle will launch in 2016 or 2017, and be refreshed in 2020.
While additional upside from here is possible (he believes shares could reach $175), Satghare notes that would take a lot from Tesla, something he's not quite sure is ready to happen. "Meaningful upside from current levels will require domestic manufacturing in China and record sales of Gen 3 on launch. Execution risk is meaningfully higher in this scenario, and we expect limited clarity on this until the 2016/2017 time frame."
At current levels, Satghare believes shares are pricing in not only the success of the Model S, but the Model X and on-time delivery and success of the third-gen car, with annual volumes of 150,000 units by the end of the decade.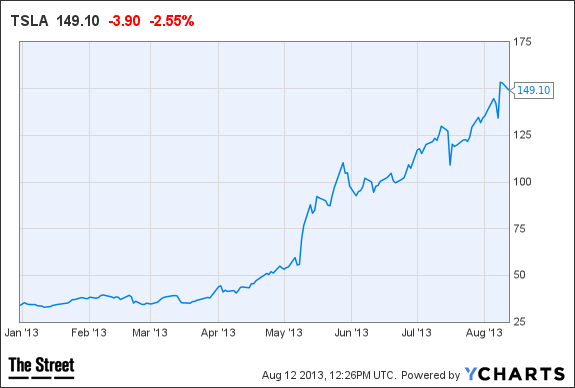 More from TheStreet.com
DATA PROVIDERS
Copyright © 2014 Microsoft. All rights reserved.
Fundamental company data and historical chart data provided by Morningstar Inc. Real-time index quotes and delayed quotes supplied by Morningstar Inc. Quotes delayed by up to 15 minutes, except where indicated otherwise. Fund summary, fund performance and dividend data provided by Morningstar Inc. Analyst recommendations provided by Zacks Investment Research. StockScouter data provided by Verus Analytics. IPO data provided by Hoover's Inc. Index membership data provided by Morningstar Inc.
ABOUT TECHBIZ
Start investing in technology companies with help from financial writers and experts who know the industry best. Learn what to look for in a technology company to make the right investment decisions.