Apple reportedly ramps up hiring for iWatch
While the wearable computing product may not be coming to market this year, Apple is poised to garner plenty of attention ahead of its ultimate launch.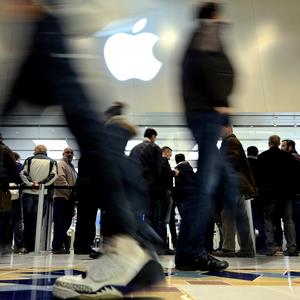 Chris Ciaccia, TheStreet

The iWatch is such a big deal that when Apple (AAPL) goes on a hiring spree for it the world takes notice.

The Financial Times newspaper cited unnamed people described as being close to the situation in reporting that Apple has been "aggressively" hiring for the smart watch over the past few weeks.
Apple couldn't be immediately reached for comment.
Not only is Apple reportedly looking at hiring outside talent for the project, the FT said that Apple may look at acquiring companies that would help with the production of the iWatch.
Last month, Apple hired former Yves Saint Laurent CEO Paul Deneve to work on special projects. Many industry watchers took this as a sign it could be iWatch-related, since Deneve has experience in selling high-end accessories and clothing.
Speculation on overdrive 
It's long been speculated that Apple would announce a wrist device to boost sales outside of the iPad and iPhone. Wearable technology is something new for Apple, which may be part of the reason Deneve was brought in and why the Cupertino, Calif., company may be looking at acquisitions to help with the product.
This comes as other technology companies are increasingly looking at wearable technology. Microsoft (MSFT), Google (GOOG), Samsung and others are thought to be working on their own smart watches. Nike (NKE) has been successful with its own SportWatch. But the industry is still ripe for innovation and disruption, as people want their devices to do more.
Speculation surrounding the iWatch has been in overdrive, as Apple has been filing patents around the world. CEO Tim Cook has also fueled the fire, saying recently that wearable devices are something of interest. "The whole sensor field is going to explode," Cook said during the D11 technology conference "It's a little all over the place right now. With the arc of time, it will become clearer."
Cook also noted that the wrist is particularly interesting, but that, "you still have to convince people it is worth wearing."
A smart watch could go a long way toward changing the perception that Apple can has lost its innovative edge. Apple is clearly bothered by this mentality. A Phil Schiller, senior vice president of marketing, said, "Can't innovate anymore, my ass" when announcing the new Mac Pro at last month's developer conference.
Earlier this year, Morgan Stanley analyst Katy Huberty wrote that a smart watch from Apple could be worth as much as $10 billion to $15 billion in annual revenue for Apple, assuming a $200 price point.
A product that does between $10 billion and $15 billion in annual sales isn't going to drastically move the needle for Apple, which is projected to generate sales of $171.4 billion in fiscal 2013, and $187 billion in fiscal 2014, per Thomson Reuters. It will make investors feel that Apple still has more aces up its sleeve, and offer the consumer a great experience.
More from TheStreet.com

ABOUT TECHBIZ
Start investing in technology companies with help from financial writers and experts who know the industry best. Learn what to look for in a technology company to make the right investment decisions.