Apple said to ship 10 million iPad Air units in Q4
While the iPad Mini has proved extremely popular, the company may be trying to push its larger -- and more profitable -- full-size tablet this quarter.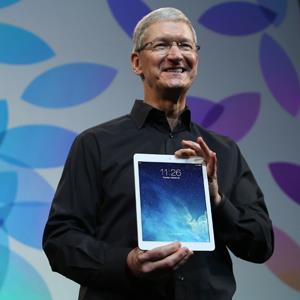 By Louis Bedigian

Apple (AAPL) is expected to ship a large number of 9.7-inch tablets during the fourth quarter.
According to DigiTimes, Apple will ship 10 million units of its fourth-generation iPad, which is officially known as the iPad Air. Promoted as the thinner, lighter and more powerful successor to last year's iPad 4, the iPad Air looks to start a new chapter in Apple's ongoing tablet movement.
As much as 70 percent of the iPad Air displays will be provided by LG Display (LPL). Sharp (SHCAY) will supply 10 percent of the displays, while Samsung (SSNLF) will provide the remaining 20 percent.
Enough demand?
Last year, the full-size iPad lost its edge when the sleeker, cheaper, smaller and lighter iPad Mini was released.
The 7.9-inch tablet proved to be very popular, acquiring as many as 90 percent of new iPad buyers. This tablet also helped Apple achieve record sales results during the fiscal 2013 first quarter and fiscal 2013 second quarter.
Unfortunately for Apple, the iPad Mini's success came at a price. While the device carries a starting MSRP of $329, its manufacturing and bill of materials (BOM) cost is $198. This would leave Apple with $131 in profit if the company could sell all of its tablets directly to consumers without any additional costs (shipping, overhead, etc.).
Comparatively, the third-generation iPad carried a manufacturing and BOM cost of $316.05, leaving $183.95 behind for Apple (in a perfect world where no additional costs 
are involved). The fourth-generation iPad may have been even cheaper to produce.
Since Apple can make more money selling full-size iPads, the company may be tempted to flood the market with iPad Air units and back away from the iPad Mini.
This might be why its iPad Mini with Retina Display announcement was less boisterous than the iPad Air unveiling, and why the Air is shipping first.
Apple may have also raised the price of the Mini (the Retina Display model starts at $399 -- just $100 less than the iPad Air) to make the full-size iPad seem like a better deal.
Is this smart pricing or a mistake that's doomed to fail? Consumers will decide with their wallets this holiday shopping season.
At the time of this writing, Louis Bedigian had no position in the equities mentioned in this report.
Read more from Benzinga:
DATA PROVIDERS
Copyright © 2014 Microsoft. All rights reserved.
Fundamental company data and historical chart data provided by Morningstar Inc. Real-time index quotes and delayed quotes supplied by Morningstar Inc. Quotes delayed by up to 15 minutes, except where indicated otherwise. Fund summary, fund performance and dividend data provided by Morningstar Inc. Analyst recommendations provided by Zacks Investment Research. StockScouter data provided by Verus Analytics. IPO data provided by Hoover's Inc. Index membership data provided by Morningstar Inc.
ABOUT TECHBIZ
Start investing in technology companies with help from financial writers and experts who know the industry best. Learn what to look for in a technology company to make the right investment decisions.