Apple's iron grip on the app economy
Android may lead in market share, but iOS wins hands down in adoption rates, making it more attractive to developers.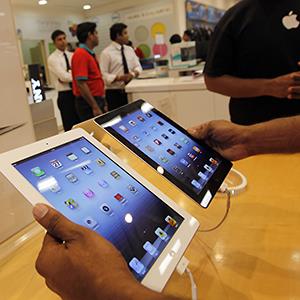 By Chris Ciaccia
NEW YORK (TheStreet) -- There's always been the battle of which operating system is better: Apple's (AAPL) iOS or Google's (AAPL) Android. If you're a developer, iOS wins hands down.

Apple has released its latest statistics showing iOS 7 adoption, and the results show that a staggering 74 percent of iDevices are now running Apple's latest mobile operating system compared to just 1.1 percent for Android's latest operating system, KitKat. Apple's previous OS, iOS 6, is running on 22 percent of devices while the remaining 4 percent of iDevices run iOS 5 or lower. 

Apple's iOS 7 was released for public use on Sept. 18, 2013, after being announced at its Worldwide Developer Conference in June. 

That lack of fragmenting by Apple shows that iOS is far and away better for developers who only have to build one application programming interface (API) to reach a significant portion of Apple's users -- whereas they need to build multiple APIs to reach a majority of Android users. 

That's the reason there are so many dedicated apps for both the iPhone and the iPad, with over 450,000 apps built for the iPad alone. The vast majority of Android apps are one app built for all devices and then stretched for the tablet experience.

With that kind of reach, Apple consistently touts how much it has paid to developers. Indeed, Apple has built its own economy, the app economy, simply because its users rush to download the latest operating system. "Cumulative app downloads have reached 60 billion and our app developers have now earned $13 billion from sales to the App Store, half of which they've earned in the last year," Apple CFO Peter Oppenheimer said on Apple's fiscal fourth-quarter earnings call.

Android may have market share dominance in mobile operating systems for both smartphones and tablets, with 80 percent of the smartphone market, and nearly 70 percent of the tablet market, respectively, according to IDC.

That number does not matter to Apple, which has continued to focus on how often its customers use their devices. Judging by the iOS 7 adoption rate, it's clear that Apple users continue to enjoy using their products, and want the latest and greatest.

All while giving developers a pretty penny or two.
More from TheStreet.com
Apple, Samsung gain as top smartphone makers
Apple's TV innovation will be unexpected
ABOUT TECHBIZ
Start investing in technology companies with help from financial writers and experts who know the industry best. Learn what to look for in a technology company to make the right investment decisions.