Apple's share of tablet market drops to record low
After a full fiscal year without a new iPad release, Apple still leads the global tablet market -- but it's quickly losing ground.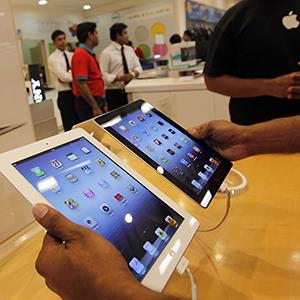 By Louis Bedigian

Apple's (AAPL) share of the tablet market continues to plummet despite a slight increase in iPad sales.
During the fiscal 2013 fourth quarter (ended September 28, 2013), Apple sold 14.1 million iPads -- a slight increase over the 14 million units it sold during the year-ago period.
This means that Apple was able to maintain last year's iPad sales growth even without the release of a new tablet. Apple released the third-generation iPad in time for the fiscal 2012 fourth quarter, but it did not unveil a single new tablet in 2013 until after the fiscal fourth quarter was over.
Now that the new iPads have been unveiled, Apple should be able to meet or beat the record-breaking sales (22.9 million iPads) of the fiscal 2013 first quarter.
With all this growth (and growth maintenance), investors might expect Apple to maintain its position within the tablet market. And Apple has shown significant strength in the education tablet market.
That has not been the case in the broader consumer marketplace, however. According to market intelligence firm TrendForce, Apple only commanded 31.8 percent of the tablet market during the September quarter. This is a historical new low for the company, which has steadily dominated the tablet market since the first iPad was released.
Apple still leads the global tablet market, but Samsung (SSNLF) is quickly catching up. TrendForce's data shows that Samsung shipped 10.5 million tablets during the September quarter. While it is unclear how many of those units were actually sold, TrendForce estimated that the company's market share arrived at 23.7 percent.
Google (GOOG), which sells the Nexus 7 tablet that's manufactured by Asus (AKCPF), came in third place with 2.1 million units and a 4.7 percent share. Lenovo (LNVGY) shipped 1.6 million units and attained 3.6 percent of the market. And Amazon (AMZN) rounded out the top five with 1.4 million units and a 3.2 percent share.
Disclosure: At the time of this writing, Louis Bedigian had no position in the equities mentioned in this report.
Read more from Benzinga:
ABOUT TECHBIZ
Start investing in technology companies with help from financial writers and experts who know the industry best. Learn what to look for in a technology company to make the right investment decisions.