Apple's 'watershed day' in China approaches
China Mobile, the world's largest mobile carrier, will begin selling iPhones this Friday.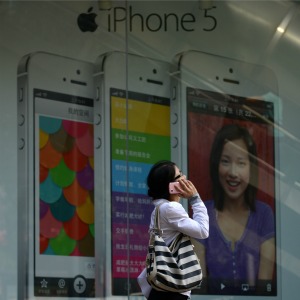 By Eunice Yoon and Dhara Ranasinghe, CNBC
A deal to sell iPhones on China Mobile's (CHL) vast network is a "watershed" moment, Apple (AAPL) CEO Tim Cook told CNBC on Wednesday.

China Mobile will start selling iPhones in China this Friday. The premium, 16-gigabyte, 5S model will be priced at 5,288 yuan, or about $874, the world's largest mobile company said. The 64-gigabyte 5S will be priced at 6,888 yuan ($1,139) and the 5C model will be priced at 4,488 yuan for the 16-gigabyte model.
A long-awaited deal between Apple and China Mobile was announced last month. Access to China Mobile's network of an estimated 760 million subscribers -- the largest in the world -- is seen as a crucial next step for Apple.

"This is a watershed day," said Cook, who is in Beijing ahead of Friday's launch. He referred to China Mobile as a great cellphone firm with a "very fast network."

"It's a huge announcement . . . we're incredibly impressed with them, we have deep respect for them," Cook said. "We see this as bringing the world's best smartphone to the very largest and now the fastest network in China."

Cook said that the company sold more iPhones last quarter in Greater China than ever before, and sees this deal as "continuing momentum" that has been building up over the last three or four years. "It really is a key market for us," he said.

Neither Apple nor China Mobile had an exact sales estimates for the iPhone. Industry analysts have been keenly watching for a sales figure. CNBC has learned China Mobile has received 1.2 million pre-orders.

Shebly Seyrafi, an analyst at FBN Securities predicted after the announcement in December that Apple would sell an incremental 17 million units to China Mobile, on top of the roughly 42 million China Mobile subscribers that already use the iPhone.

The deal with China Mobile means that the iPhone will now be available through all state-run telecom carriers in China, home to the world's biggest population and a growing class of consumers. The two latest iPhones have been sold by rivals China Unicom and China Telecom since they were launched last year. Both firms have trimmed contract prices for the iPhone to keep existing customers and tempt new ones away from China Mobile, according to media reports.
China Mobile said it was not releasing details of subsidies, which will be released with its annual results in March.

The pricing of the iPhone on China Mobile's network was seen as key since it's likely to impact profitability and potential sales for the two tech heavyweights.

While Apple gets access to China Mobile's vast network of customers, the tech firm also faces stiff competition from the like of Samsung (SSNLF) and Lenovo (LNVGY).

Apple shares have risen in recent months each time a report suggested a China Mobile deal was near, only to fall when a deal did not materialize -- highlighting the importance of the deal to the U.S. tech firm.

The deal between Apple and China Mobile will not be limited to handsets, but also involve broader co-operation between the two firms, China Mobile Chairman Xi Guohua was quoted saying by the Wall Street Journal on Wednesday.

Apple's shares jumped 3.84 percent a day after the deal was announced on Dec. 22, but the stock gave up much of those gains in the following weeks; shares were up more than 2 percent early Wednesday, though. China Mobile shares listed in Hong Kong have slipped almost 5 percent.

FBN Securities raised their price target on Apple after December's announcement from $625 to $650 and maintained its "outperform" rating. Another research firm, Trefis, said the deal could add $45 billion to Apple's value if China Mobile is able to lead the race into 3G and 4G network technology in the same way it has dominated 2G.
More from CNBC
ABOUT TECHBIZ
Start investing in technology companies with help from financial writers and experts who know the industry best. Learn what to look for in a technology company to make the right investment decisions.