AT&T feeling heat from revitalized Sprint
AT&T is buying smaller rivals and rolling out faster services -- whether it can afford to or not -- as it nervously contemplates the emergence of a more potent competitor.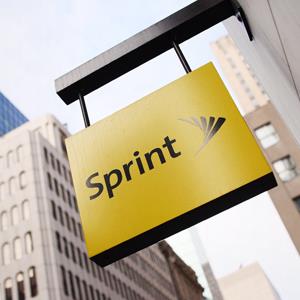 Dana Blankenhorn, TheStreet
AT&T (T) is facing a huge threat from Sprint (S), and AT&T is taking it as seriously as a heart attack.
Sprint, now under the control of SoftBank's Masayoshi Son, has a plan to expand capacity and aggressively come at AT&T's share of the wireless market.
SoftBank has successfully executed this plan in Japan, where it now leads in market share over heavyweights NTT DoCoMo and KDDI, the Japanese equivalents of AT&T and Verizon (VZ). 
If Sprint makes the U.S. market-dominating duo a trio, it will be disastrous for AT&T. The company today gets more than half of its revenue from its wireless unit; thus that unit's market share is critical in its stock valuation. Right now, AT&T is worth 10 times more than Sprint, so as Sprint gains share you would expect that gap to narrow.
AT&T's response to the threat is to try and buy up the rest of the wireless board, creating an oligopoly in hopes of reducing Sprint's ability to compete. 
Acquiring spectrum
This strategy has begun with the $1.2 billion purchase of Leap Wireless International (LEAP), known for its Cricket brand of prepaid wireless plans. The deal was announced July 12.
All of this is making hedge fund manager John Paulson billions of dollars. Paulson took shares in Sprint, Leap and MetroPCS (PCS) when they were being priced for bankruptcy, and he's cashing in on the consolidation.
With the Department of Justice having started this acquisition game by halting AT&T's plan to buy T-Mobile US (TMUS) two years ago, AT&T's ability to squeeze out Sprint is thus limited. One way to get around the block, analyst Jeff Kagan tweets, is to take out small players such as Leap for their spectrum.
Another way to get around it is by using the spectrum it's acquiring to deliver new services the Federal Communications Commission loves. Thus, some tech blogs have speculated that AT&T could be planning an LTE-Advanced network created by combining radio channels for faster speeds. An LTE-Advanced service, based on bigger hunks of spectrum, helps justify consolidation within the space, limiting the number of carriers spectrum can support. AT&T may be planning to reduce competition among carriers, which will maintain prices, then match Sprint's network improvements and prices when they appear.
That will take capital, and having spent nearly one-third of its cash on Leap, it's an open question where that cash will come from.
Investing blog The Daniels Report wrote in April that AT&T's finances are already stretched thin, with the wireline business declining, wireless gains unable to offset those losses, free cash flow dwindling and its defined pension plan a "ticking time bomb."
The price of meeting Masayoshi Son's ambition, Daniels concludes, may in the end be AT&T's pensions and dividends.
At the time of publication, Blankenhorn owned no shares in companies mentioned here. 
More from TheStreet.com
ABOUT TECHBIZ
Start investing in technology companies with help from financial writers and experts who know the industry best. Learn what to look for in a technology company to make the right investment decisions.