Buy a Tesla, steer clear of the stock
The prospect of never again having to pay for gas is exhilarating, but the stock has to be considered a lemon until the company manages to turn an operating profit.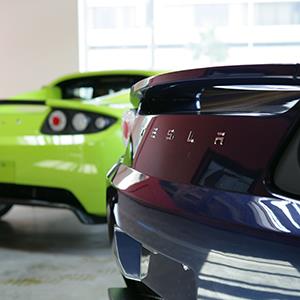 By Robert Weinstein, TheStreet
There are few days in life that are more thrilling and terrifying than the day you take your driver's license test.

It was almost 30 years ago, and I still remember returning from the official test drive thinking I didn't pass. As soon as the examiner advised me to "slow down," I thought the exam was all but over.
Newly minted drivers aren't the only ones who get excited. Investors allow emotions to take the steering wheel at times, too.
There's an American-made luxury SUV that I started test-driving a few weeks ago to replace my Escalade. The luxury SUV I'm considering is built in Tuscaloosa, Ala. You may not know it, but Mercedes-Benz has a factory in the South that produces some of the finest vehicles in the world. 
The ML63, packed with 550 horsepower and 560 lb-ft of torque, goes from 0 to 60 in 4.9 seconds, faster than Tesla's (TSLA) standard Model S. The ML63 has all-wheel drive, so when the snow hits the ground, the ML63 also beats the Model S Performance.

But Tesla's Model S Performance has advantages over the ML63. Aside from a neck-snapping 4.2 second 0 to 60 time, the real excitement for me is thinking about never having to pay for gas again. According to Tesla's website, a supercharger station will be built near my home in Wisconsin soon. Tesla allows Model S performance owners to charge their vehicles for free.
I can't say receiving free battery charges invokes the same magnitude of enthusiasm passing my original driving test created, but the thought is attractive. Unequivocally more attractive than buying Tesla shares at the current valuation.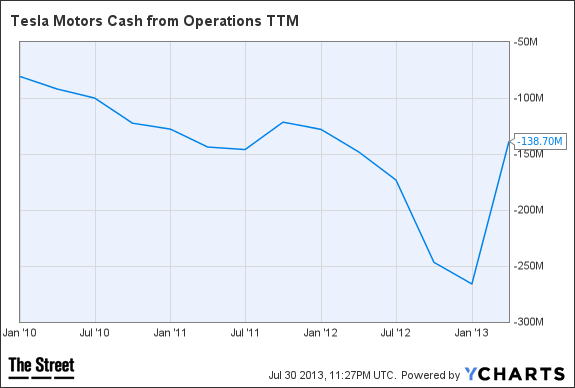 At $132 per share, there's not much to like. The forward earnings multiple is over 100 (P/Es over 20 have historically underperformed the overall market); the Quick Ratio is 0.54 (over 1 is considered safe); and last quarter's "profit" was a result of government paid corporate welfare.
Tesla doesn't expect to make an operating profit next quarter -- and the list continues for longer than the range of its high-capacity battery.
In other words, buy the car but leave the lemon of a stock for someone else. Otherwise, you may find your investment on the side of the road needing repairs.
More from TheStreet.com

DATA PROVIDERS
Copyright © 2013 Microsoft. All rights reserved.
Fundamental company data and historical chart data provided by Morningstar Inc. Real-time index quotes and delayed quotes supplied by Morningstar Inc. Quotes delayed by up to 15 minutes, except where indicated otherwise. Fund summary, fund performance and dividend data provided by Morningstar Inc. Analyst recommendations provided by Zacks Investment Research. StockScouter data provided by Verus Analytics. IPO data provided by Hoover's Inc. Index membership data provided by Morningstar Inc.
ABOUT TECHBIZ
Start investing in technology companies with help from financial writers and experts who know the industry best. Learn what to look for in a technology company to make the right investment decisions.