Cisco's slump not as bad as Wall St. fears
Traders react to a cautious outlook from CEO John Chambers and the network equipment maker's planned jobs cuts. But Cisco appears well-positioned for growth.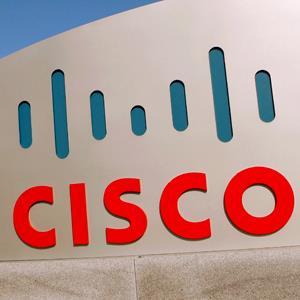 By Chris Ciaccia, TheStreet
 Cisco Systems (CSCO) shares plunged after the company reported fiscal-fourth-quarte​r earnings that beat consensus, as traders focused on management's expression of concerns about the global recovery. However, it's not as bad as investors are making it.

On Cisco's earnings call, CEO John Chambers cited mixed signals about the durability of the economic recovery. "The environment is improving slightly, but nowhere near the pace that we want," Chambers said.
The company also announced it would be cutting 4,000 jobs amid a restructuring program.
In the most-recent quarter, Cisco posted earnings of 52 cents a share on $12.4 billion in sales, up 6% year over year. Analysts were expecting Cisco to earn 51 cents a share.
Despite the sharp decline in shares, it's not all bad.
Focus on the job cuts
UBS analyst Amitabh Passi, who rates shares  a"buy" and has a $28.50 price target, noted that Cisco is still executing well amid the weak economic recovery. 

Fourth-quarter sales of Cisco's video product rose 23% year over year, wireless access points were up 32% in the period and data center equipment sales rose 43%. Yes, there were a couple bleak spots, including relatively flat sales of next-generation routers and the 2% decline in sales of collaboration tools. But the cautious tone is hurting the stock, notes BMO Capital Markets analyst Tim Long, who rates shares "outperform," with a $29 price target.

"The quarter itself was fine and even guidance was okay, albeit a little on the light side, but management's more cautious tone and the announced layoffs suggest it could take some time before growth picks up again," Long wrote in a note to clients. "In the end, our estimates are not changing all that much, but the multiple will take a hit given how strong the stock has been YTD."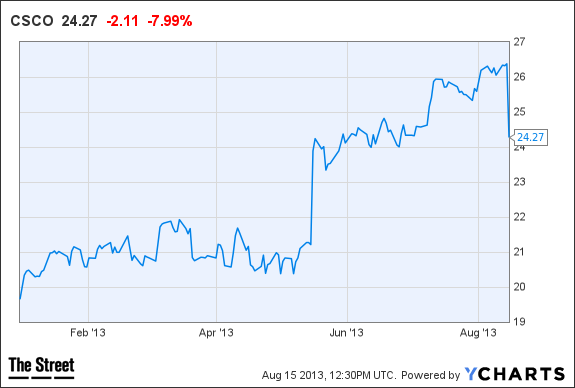 Wall Street is showing extreme amounts of concerns about the job cuts. Cisco CFO Frank Calderoni declined to elaborate on the job cuts in an interview with TheStreet. But Oppenheimer analyst Ittai Kidron , who rates shares "outperform" and has a $27 price target, believes the cost cuts should be taken as a positive.
"Investors could look at the planned 4,000 headcount reduction as a sign of greater issues, yet we would take the view that Cisco is merely accelerating planned reorganization activities to better align resources for future growth," Kidron wrote in a research note. "We view this as a bump in the road and remain bullish on Cisco."
Lazard analyst Ryan Hutchinson, who has a "neutral" rating on Cisco shares, believes that demand is improving and the second half should be better.
"We believe Cisco's results may damper sentiment across the group," he wrote, "however, we believe that demand trends are modestly improving and remain optimistic with respect to a 2H recovery in IT spend."

More from TheStreet.com
ABOUT TECHBIZ
Start investing in technology companies with help from financial writers and experts who know the industry best. Learn what to look for in a technology company to make the right investment decisions.