Docomo device turns any surface into a tablet
The futuristic 'Intelligent Glass' tries to one-up Google Glass, but is years away from commercial availability.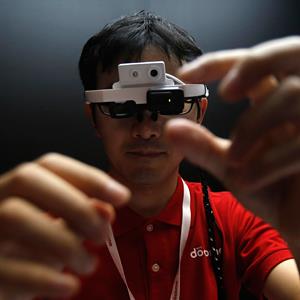 A Japanese company has a fascinating answer to 
Google
's (
GOOG
) controversial wearable computer, Google Glass. Though it might seem like a copy of Glass, this one has some wild innovations straight out of science fiction.
NTT Docomo
(
DCM
), a mobile carrier in Japan, has unveiled a clone of Google Glass called 
Intelligent Glass
 (website in Japanese). It debuted its wearable device at Ceatec, an annual futuristic confab in Tokyo.
In addition to the "normal" functions that we are used to seeing in wearable computers -- it allows users to check the time and search the Internet for information about their surroundings -- Intelligent Glass (pictured) has some fascinating capabilities.
First, it offers near-instant translation of text. This is something that Japanese phones have been doing for years; it's the kind of necessary service that that comes with the territory when your language includes thousands of unique characters.
With Intelligent Glass, a stroll through Tokyo would present foreigners with translations of signs into different languages right before your eyes. The glasses already recognize Japanese, Korean, English, and Chinese text. The beta prototype takes five seconds to complete a translation. The feature works by calling in information to remote servers, just as Google Glass does, but in a country with 
considerably faster Internet
.
The device also recognizes people's faces, making it easier to pretend that you remember who people are, which is difficult when there is a computer screen in front of your eye at all times.
But here's the really neat thing: Couple the eyewear with a special ring on your finger, and you can turn any flat surface into a tablet computer. In the illustration shown above, a user is tapping and flicking apps on a filing folder, just as if she had an 
iPad
 (
AAPL
) in front of her. Images of the apps a user needs are beamed onto a surface by the device. Using one might make you look a little crazy, but it definitely keeps your surfing secret. And a ring is more mobile than a tablet computer. 
According to a 
write-up in The New York Times
, the Docomo glasses had the longest lines at Ceatec. However, a Docomo spokesperson said that the company is years away from making these devices available commercially.
Docomo hopes to get the glasses ready for the 2020 Summer Olympics, which will be held in Tokyo, so newcomers can understand restaurant menus and signage.
More from Minyanville
DATA PROVIDERS
Copyright © 2014 Microsoft. All rights reserved.
Fundamental company data and historical chart data provided by Morningstar Inc. Real-time index quotes and delayed quotes supplied by Morningstar Inc. Quotes delayed by up to 15 minutes, except where indicated otherwise. Fund summary, fund performance and dividend data provided by Morningstar Inc. Analyst recommendations provided by Zacks Investment Research. StockScouter data provided by Verus Analytics. IPO data provided by Hoover's Inc. Index membership data provided by Morningstar Inc.
ABOUT TECHBIZ
Start investing in technology companies with help from financial writers and experts who know the industry best. Learn what to look for in a technology company to make the right investment decisions.