Facebook, Google pursue teen favorite Snapchat
The app, which allows users to send self-destructing videos and picture messages, has reportedly drawn big offers from the tech giants, who covet its youthful user base.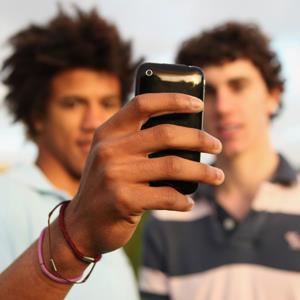 By Tim Parker
Have you heard of Snapchat? If you're a 20-something or younger, or if you have teenage kids, you're likely well aware of the app.

Facebook (FB) and Google (GOOG) know about Snapchat as well. The Wall Street Journal reports that each made an offer to acquire the company but were turned down.
If you're unfamiliar with the app, Snapchat is a two-year-old company founded by a group of Stanford undergrads. Users can send videos and pictures but unlike other apps, anything sent will quickly self-destruct. No record of it will exist after 24 hours at the most.
The platform is not a true social platform like Facebook where people use it to create connections. The appeal of the app, at least for now, is that it's private and there's little record of conversations. It's no wonder teenagers love it.
Investors love the company as much as the app. The Wall Street Journal reported that Facebook made a $3 billion all-cash offer to acquire the company. Snapchat said no.
Then, GigaOM partner Om Malik tweeted a rumor of his own: "Latest rumor/gossip on @Snapchat. After Facebook offered $3B Google offered $4B but @evanspiegel said no! Nice way to drive up valuation."

The company again said no.
Google and Facebook aren't the only potential suitors. Chinese e-commerce company Tencent Holdings offered to lead an investment that valued the company at $4 billion.
At this point Snapchat isn't interested.
Evan Spiegel, the company's 23-year-old co-founder and CEO, will reportedly not consider any offer for the company until early next year at the earliest. He's hoping that the user base will continue to grow and the valuation will rise.
Some will see it as a major gamble, but with companies like Twitter (TWTR), which is still unprofitable, valued at $25 billion thanks to a wildly successful IPO, it wouldn't be a surprise to see the valuation move much higher.
Facebook reportedly offered $1 billion originally but later raised its bid to $3 billion. Each company is interested in Snapchat because of its quick rise in the social space.

Although it's not a true social app, it's getting the attention of the younger population, a demographic that Facebook appears to be losing.
At the time of this writing, Tim Parker had no position in the above-mentioned companies.
Read more from Benzinga:
ABOUT TECHBIZ
Start investing in technology companies with help from financial writers and experts who know the industry best. Learn what to look for in a technology company to make the right investment decisions.