Facebook will tell you when friends are nearby
With its 'Nearby Friends' feature, the social media giant enters an already crowded and somewhat contentious space occupied by the likes of Foursquare and Tinder.
By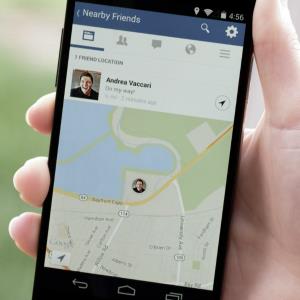 Reed Albergotti, The Wall Street Journal
Facebook (FB) users will soon be able to receive notices on their mobile app when they're near friends, signaling an effort by the online social network to play a bigger role in real-world interactions.

Users will have to opt in separately to the feature, called "Nearby Friends," and agree to give Facebook permission to track them at all times, even when not logged into Facebook.
Some privacy advocates expressed concerns about the implications for users of opting into the service. Chris Conley, a policy attorney with the American Civil Liberties Union of Northern California, said Facebook should keep users "regularly aware" of everyone with whom they're sharing location. Jeffrey Chester, executive director of the Center for Digital Democracy, called on the Federal Trade Commission to review the product.
A Facebook spokeswoman said users will receive regular reminders about Nearby Friends, and that the company regularly discusses its products and features with the FTC and other regulators.
With the new feature, Facebook is entering an already crowded space occupied by the likes of casual dating app Tinder and social check-in service Foursquare. Radar, a smartphone app released last year, tells users where their Facebook friends are. Cloak, on the other hand, uses Foursquare and Instagram to locate friends -- and help people avoid them.
Rival social network Twitter (TWTR) in December tested a feature that allowed users to see tweets from nearby, whether or not the user followed the tweeter.
Facebook briefly tested a feature similar to Nearby Friends in June 2012, but quickly stopped after news reports of the test surfaced. At the time, Facebook said the effort was an experiment.
This time, Facebook is hoping to do better by leveraging its more than one billion users. Nearby Friends grew out of Facebook's 2012 acquisition of mobile app Glancee.
Facebook employees have been testing the app in recent months, and Vaccari said it's already had some serendipitous outcomes. On one occasion, two employees arrived at the San Francisco airport at the same time from different parts of the world. They learned from Nearby Friends that they were both at the airport and the shared a cab home, saving money.
On another occasion, two Facebook employees learned they were vacationing at the same Lake Tahoe resort, and skied together.
Vaccari said the new feature could help Facebook users develop new relationships. He said he developed Glancee because he found himself in new places where he knew few people. He "fell in love with the problem" of trying to meet new friends, he said.
More from The Wall Street Journal
DATA PROVIDERS
Copyright © 2014 Microsoft. All rights reserved.
Fundamental company data and historical chart data provided by Morningstar Inc. Real-time index quotes and delayed quotes supplied by Morningstar Inc. Quotes delayed by up to 15 minutes, except where indicated otherwise. Fund summary, fund performance and dividend data provided by Morningstar Inc. Analyst recommendations provided by Zacks Investment Research. StockScouter data provided by Verus Analytics. IPO data provided by Hoover's Inc. Index membership data provided by Morningstar Inc.
ABOUT TECHBIZ
Start investing in technology companies with help from financial writers and experts who know the industry best. Learn what to look for in a technology company to make the right investment decisions.