For Samsung, all roads lead away from Android
In the tech world, integration can turn partners into competitors, and the Korean manufacturer could realistically abandon Google's mobile platform.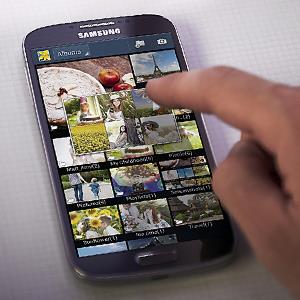 Samsung
(
SSNLF
) likes software. Anyone who bought the Galaxy S4 already knows this; the handset comes loaded with proprietary software. There's eye tracking, advanced touch functionality and an enterprise package called Knox. There's also a custom camera app, a TV remote app, a workout app, a travel app, a translation app . . . the list goes on and on.
So really, last week's Wall Street Journal article only told us what we already knew: The Korean manufacturer has been charging headlong into smartphone apps.
Meanwhile,
Google
(
GOOG
) likes hardware. Ever since it bought
Motorola
, the Android developer has been competing with the smartphone manufacturers -- like Samsung -- that put its operating system on the map.
Microsoft
(
MSFT
) made the same Faustian bargain in September when it acquired
Nokia's
(
NOK
) smartphone division and stabbed countless OEM (original equipment manufacturer) partners in the back. (Microsoft owns and publishes MSN Money.)
Welcome to the new, more "integrated" tech industry.
Apple's
(
AAPL
) business model has gone from lemon to limelight over the last ten years, and now it's rare to find a CEO who doesn't wax poetic about the marriage of hardware and software.
The reality is closer to a divorce, as OEMs find themselves in competition with platform providers like Google and Microsoft. They're not happy.
Hewlett-Packard's
(
HPQ
) Meg Whitman said as much last week, when she called the latter an "outright competitor." These days, everyone competes against everyone else, and nobody trusts anybody.
Platform neutrality has become a thing of the past, and manufacturers like HP and Samsung have been relegated to a second-class status. New versions of Android are now timed for released with new Motorola products, and Google has even branded the stock version of its operating system as "the Nexus Experience."
Samsung has another, more material reason for disliking its reliance on Android: money. Overseas versions of the OS are often stripped of their Google functionality, in favor of local alternatives like
Baidu
(
BIDU
), basically negating Samsung's profit-sharing arrangement with Google. With a different operating system -- a truly neutral one -- Samsung could leverage its market share into lucrative deals with regional content providers. Better margins could turn into a decisive advantage as smartphones grow more commoditized, and competition becomes a function of price.
Camera apps and workout assistants are just the first steps toward independence. By itself, the software on the Galaxy S4 isn't much of an advantage; with nearly one million apps, the Google Play store has most bases covered, and almost anything that Samsung develops will face a slew of similar (and often better) apps.

What the foray into software does accomplish is that it creates a stock "Galaxy Experience," much like the one you would get with an Apple or Motorola handset. These apps provide a framework around which Samsung can eventually build a different OS.
The company has experimented with operating systems in the past. Samsung introduced its own operating system in 2010, but Bada failed to gain much traction, peaking in 2012 at 3 percent of global smartphone sales. Undeterred, Samsung has partnered with
Intel
(
INTC
) to develop Tizen, an open-source alternative to Android that, with a little help, can run Droid apps. Cross-compatibility is important; one of the largest hurdles for Windows Phone has been a lack of high-quality software.
In places like Asia where Android is both fragmented and heavily modified, and there's little consistency between products, consumers might not notice a switch to Tizen. Samsung would get a leg up in China, where the powers that be have already expressed a desire for local alternatives to Android -- a feeling that can only have gotten stronger after recent revelations about Google and the NSA.
And then there are Samsung's other hardware products. Ideally, the manufacturer would like an operating system that's versatile enough to be used on any smart appliance, but contractual agreements with Google may have limited its ability to adapt Android. The Galaxy Gear smartwatch runs a modified version of the OS, but Samsung's televisions do not. Instead, they've been saddled with Google TV, a clunky platform that's only now being retired by Google. This has left the company vulnerable in one of its core markets, and one that is already overshadowed by rumors of an Apple TV.
To put that another way: Google has been fiddling while its partner burns. Which is exactly what we should have expected when integration turns partners into competitors. However, unlike HP, Samsung can actually do something about it. And if the world's largest smartphone manufacturer should abandon Android -- even in part -- it would be a devastating blow to a platform that everyone seems to take for granted . . . including Google.
More from Minyanville:

Can you imagine what the PC market of the 90s would have looked like if every company that built PCs also produced its own OS?
 Nobody would own a computer.  Not to mention how an independent software company would cope.  
stick to what you're good at.  Vertical integration is all well and good, but at some point that silo gets dangerously tall and skinny.
If I were to go with a smartphone, it would have to be the Nokia 1020 Windows 8 phone. The software and apps are more relevant to business and personal lifestyle than with Google or Apple. But with a price tag of 700 dollar and finding a non-contract plan that will allow the phone to work with 4G is something that has kept me from going to a smartphone. I refuse to pay ANY company an unnecessary line fee, which is usually 40 dollars, in addition to the plan cost. Plus they always charge you for data, and it is never usually unlimited. It is just non practical or convenient to ever go with a contract. Customers are realizing this more and more an unlimited non-contract just makes more sense. I can go to pay a flat fee of 40 dollars for unlimited EVERYTHING and pay NO taxes either. I contacted Nokia about making their Windows 8 phones ALWAYS work with 3G/4G NON-contracts when you buy the phone unlocked. Sure it is full price, but then you always save money in the long run with an unlimited low cost and no line fees or taxes.
Are you sure you want to delete this comment?
DATA PROVIDERS
Copyright © 2013 Microsoft. All rights reserved.
Fundamental company data and historical chart data provided by Morningstar Inc. Real-time index quotes and delayed quotes supplied by Morningstar Inc. Quotes delayed by up to 15 minutes, except where indicated otherwise. Fund summary, fund performance and dividend data provided by Morningstar Inc. Analyst recommendations provided by Zacks Investment Research. StockScouter data provided by Verus Analytics. IPO data provided by Hoover's Inc. Index membership data provided by Morningstar Inc.
ABOUT TECHBIZ
Start investing in technology companies with help from financial writers and experts who know the industry best. Learn what to look for in a technology company to make the right investment decisions.
RECENT POSTS
Twitter adds first female director
The otherwise all-male board will now include former Pearson CEO Marjorie Scardino, but women directors remain a rare sight at Silicon Valley tech companies.