Google unveils modular smartphone
Dubbed 'Project Ara,' the phone would have interchangeable parts, such as cameras or lighters, that could be slotted into a metal frame and held in place by magnets.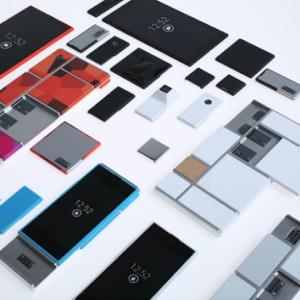 By Alistair Barr, The Wall Street Journal
Google (GOOG) is planning a "modular" smartphone that consumers can configure with different features, executives said on Tuesday.
Google envisions hardware modules, such as a camera or blood-sugar monitor, that would be available in an "app store," like its own Google Play store for software applications.
The modules would fit into a metal "endoskeleton" designed for the phone, which Google calls Project Ara. Flat rectangular "modules" can be slotted into this frame, where they will be held in place by magnets, designers said.
"The existing way of making smartphones is mature. But there are new ways of making phones," said Kaigham Gabriel, deputy director of Google's Advanced Technology and Projects Group, which developed the concept for the phone. Gabriel spoke in an interview at the first Project Ara developer conference Tuesday.
Each module would perform a particular task. One may be a battery for the phone, while another may house a wireless antenna, or a camera. Google controls the design of the endoskeleton, while outside developers will design the modules.
Google is hoping to harness the creativity of thousands of developers to build a large ecosystem of hardware modules. Google plans to start with an entry-level phone with basic functions that would cost roughly $50 to make.
Google didn't say how much it plans to charge for the phone.
Google also is planning an online marketplace where consumers buy additional modules, depending on what they want their phone to do.
"We want it to be like an app store," Gabriel said. "You may want a blood-sugar monitor and a cigarette lighter on your phone. Why should you not have that?"
Software-based app stores, such as Apple's (AAPL) App Store and Google Play, are rich profit sources because they typically take about 30 percent of the money spent on apps.
Rajeev Chand, head of research at Rutberg & Co., an investment bank focused on the wireless and digital-media industries, said Project Ara could let smartphone users upgrade their gadgets more cheaply and more often, rather than replacing the entire device every 18 months, as many do now.
For Project Ara to succeed, large hardware makers need to embrace the platform and make their own modules, while wireless network carriers also need to get on board, Chand added.
There's also the question of whether many consumers will want to spend time customizing their phones with complex new components, Chand said.
"There may not be a consumer market for this," he added.
The phone's creators are working on an app to help users select modules.
They also are considering using eye tracking and heart-rate sensors to check if users are overwhelmed by the choices, said Paul Eremenko, the head of Project Ara. If stress levels rise, the configurator app will whittle down the choices to a more manageable selection, he explained.
"The smartphone ecosystem is in early stages of its development, like the car in the early 1900s when you could have any color you wanted as long as it was black," Eremenko explained. "Today, about 25 percent of the value of automobiles is in the customization. We want to do that with smartphones."
More from The Wall Street Journal
DATA PROVIDERS
Copyright © 2014 Microsoft. All rights reserved.
Fundamental company data and historical chart data provided by Morningstar Inc. Real-time index quotes and delayed quotes supplied by Morningstar Inc. Quotes delayed by up to 15 minutes, except where indicated otherwise. Fund summary, fund performance and dividend data provided by Morningstar Inc. Analyst recommendations provided by Zacks Investment Research. StockScouter data provided by Verus Analytics. IPO data provided by Hoover's Inc. Index membership data provided by Morningstar Inc.
ABOUT TECHBIZ
Start investing in technology companies with help from financial writers and experts who know the industry best. Learn what to look for in a technology company to make the right investment decisions.