Hashtag, selfie, unfriend: The new words of 2014
Like it or not, it looks like the selfie is here to stay. Check out the dozen or so tech terms that Merriam-Webster has added to its updated collegiate dictionary.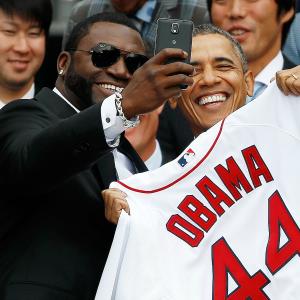 By Todd Olmstead, The Wall Street Journal
You probably know what a "selfie" is, but what about "gamification"? Both words from the corners of technology and social media are among the 150 that Merriam-Webster said Monday it is adding to its collegiate dictionary.
"So many of these new words show the impact of online connectivity to our lives and livelihoods," Peter Sokolowski, editor at large, wrote on the company's website. Many of the words -- "tweep" and "hashtag," for example -- come directly from their use on social media like Twitter (TWTR) and Facebook (FB).
Merriam-Webster updates its dictionary often, though it skipped one in 2013. This updates the 11th edition, and is not considered a new edition of the dictionary.
Around 30 editors working full-time on the dictionary contribute to the list. "We take a census of language on a continuing basis," Sokolowki said. "Then we take stock of which of those words are not in the dictionary and of those, which are being used with increasing frequency and with a wide distribution of publications."
According to a spokesperson, only a sample of the new words are disclosed "for competitive reasons."
You can see some of the included words and their definitions below.
big data (noun): an accumulation of data that is too large and complex for processing by traditional database management tools

catfish (noun): a person who sets up a false personal profile on a social networking site for fraudulent or deceptive purposes

crowdfunding (noun): the practice of soliciting financial contributions from a large number of people especially from the online community

digital divide (noun): the economic, educational, and social inequalities between those who have computers and online access and those who do not

e-waste (noun) : waste consisting of discarded electronic products (as computers, televisions, and cell phones)

gamification (noun): the process of adding games or gamelike elements to something (as a task) so as to encourage participation

hashtag (noun): a word or phrase preceded by the symbol # that classifies or categorizes the accompanying text (such as a tweet)

paywall (noun): a system that prevents Internet users from accessing certain Web content without a paid subscription

selfie (noun): an image of oneself taken by oneself using a digital camera especially for posting on social networks

social networking (noun): the creation and maintenance of personal and business relationships esp. online

tweep (noun): a person who uses the Twitter online message service to send and receive tweets

unfriend (v.t.): to remove (someone) from a list of designated friends on a person's social networking website
Dictionary updates from the likes of Merriam-Webster and Oxford English Dictionary often spur debates about what words deserve to be included. Merriam-Webster is suggesting people talk about its new words (where else) on Twitter using the hashtag #MW2014NewWords.
Which new word do you think most deserves an entry? Let us know in the comments or vote here.
More from The Wall Street Journal
ABOUT TECHBIZ
Start investing in technology companies with help from financial writers and experts who know the industry best. Learn what to look for in a technology company to make the right investment decisions.