Here's the real winner in the phone and tablet wars
Instead of Apple, Google or Amazon, invest in the company behind the screens.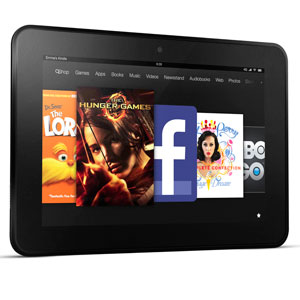 By Michael Shulman
Writers and bloggers assault us daily with hundreds of views on who is winning the "phone and tablet wars." The phone war is the Apple (AAPL) iPhone versus Google (GOOG)/Samsung (SSNLF). The tablet war is Apple's iPad versus the Amazon (AMZN) Kindle.
Trying to digest all that analysis is exhausting and dangerous to the health of your wealth.
Forget about picking a winner. Instead, focus on the supplier to all the device makers, SanDisk (SNDK). Technically, SanDisk NAND flash memory chips may not be in all devices -- they are in many -- but SanDisk's royalty technology is almost everywhere. Last quarter, SanDisk's revenue grew 43% to almost $1.5 billion as memory chip prices bounced back.
More flash memory
Growth is not just coming from devices as we know them but devices that are changing. More phones and tablets round the world are using removable SD cards -- guess what SD stands for? More laptops use flash memory rather than hard drives. More enterprise servers and storage devices are using flash memory. SanDisk just spent $300 million or so acquiring a company that serves this enterprise market.
Historically, the memory chip market has ups and downs as supply outpaces demand and prices fall -- often very quickly. This has been less and less the case for NAND flash and prices for SD products have been rising. Another concern has been the cost of new fabs -- chip factories. SanDisk just cut a deal with Toshiba to jointly build a $4 billion fab, part of their joint venture that has been up and running for several years.
But the real story is growth in personal devices.
Just ahead: More tablets shipping than PCs
A report from IDC, the big dog in personal computer and device data, is a clarion call to move your money into something to do with the personal device sector:
IDC estimates PC shipments will fall behind sales of tablets in the fourth quarter 2013 and projects that in 2015 more tablets will ship than personal computers.
IDC sees the worldwide "smart connected device" market passing $2 billion in sales with revenues of close to three quarters of a trillion dollars. Throw in laptops using flash and this is an incredible growth market for suppliers such as SNDK. Yes, the market in a couple of years will be tablets plus smart phones plus laptops as flash memory will replace hard drives.
Undervalued and growing
What does this all mean for you, the investor?
First, give up the

Apple-Samsung-Google​-Amazon

headache -- stop trying to digest  hundreds of headlines and reports every day. Besides, most of those opining about these companies know nothing about them, especially blow-dried broadcasters.

The IDC numbers are very solid. "IWorld" devices are exploding in use. Smartphones now sell below $100, tablets below $200, netbooks below $300, laptops below $400  and so on. People want what they want when they want it -- in their hand, right now. Device purchases have surpassed the sale of personal computers in this calendar year. Serious double-digit growth is built into the market, and that means double-digit growth for SanDisk.

SanDisk and other tech stocks are valued more on growth and operating margins than net profits. Growth is there and operating margins should increase as prices hold firm and demand increases.
Yes, SanDisk stock is hot, but so are tempers on Capitol Hill and that means nothing right now, either.
Just because a stock is hot that does not mean it is not fairly valued -- or undervalued. Given growth prospects for SanDisk, I believe it is undervalued.
What about the nonsense on Capitol Hill? The only event that would be a long-term issue for the market would be a default. If that happens, forget stocks; the only place to hide will be cash. So if you believe there will not be a default, you can be stock picker. Some 42% of stocks are now moving on their own, against or ahead of the indices, and SNDK is one of them.
Michael Shulman is the author of "Made in America: Inside Stories of Success" and writes several investment advisory services. Disclosure: He owns Apple shares, has sold Apple calls and does not have any positions in any other company mentioned in this article.
More from Traders Reserve
ABOUT TECHBIZ
Start investing in technology companies with help from financial writers and experts who know the industry best. Learn what to look for in a technology company to make the right investment decisions.